Sprint and T-Mobile Merger: Companies Seek Approval from Regulators and Shareholders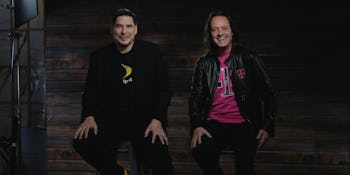 Twitter
Two of the biggest wireless carriers agreed to merge on Sunday. If approved by the U.S. government and shareholders, the merged company could have close to 100 million customers and start the transition to a 5G network.
T-Mobile and Sprint announced the merger between the two companies on Sunday as reported by The Wall Street Journal. Both companies will fall under the T-Mobile name and combine operations in order to save money. The $26 billion deal will make the new company second to Verizon in customer base.
"I'm excited to announce that @TMobile & @Sprint have reached an agreement to come together to form a new company," tweeted T-Mobile CEO John Legere, who will be the CEO of the new company. "A larger, stronger competitor that will be a force for positive change for all U.S. consumers and businesses!"
In a video with Legere and Sprint CEO Marcelo Claure, the T-Mobile CEO explained that neither company could create a 5G mobile network on their own, and it would cost Verizon and AT&T $1.5 trillion to provide the U.S. with a 5G signal. He said that nationwide 5G would lower internet costs and bring more broadband competition to areas with few internet options. Legere claimed speeds on 5G could increase by 100 times more than current speeds.
T-Mobile and Sprint may agree to a merger but the U.S. government still has the final say. Approval for the merger has to come from the Securities and Exchange Commission, Federal Trade Commission, and the Department of Justice. Shareholders of both companies would also need to approve the merger before it's a done deal.
The jump from 4G to 5G has been talked about for years. Last year, FCC Chair Ajit Pai said the commission will take a "light touch" approach to regulations for a future network upgrade to 5G.