iPhone X-Style 'Notch' Revealed in This LG G7 Render, With a Twist
LG is not standing still.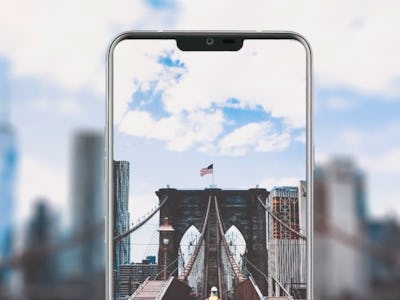 TechTalkTV/YouTube
LG is getting on the non-square screen bandwagon. A 360-degree rendering released Sunday of the upcoming G7 smartphone shows how the company plans to take a leaf out of Apple's book with a "notch" in the top of the display to allow for more screen space, while also reducing its size to allow for even more screen space at the top edge. The iPhone X's design was one of its most controversial changes, but it's also proving highly influential.
The leak, a collaboration between Steve Hemmerstoffer and Mr. Phone, shows the phone with a cutout at the top for earpiece, front camera and ambient light sensor. The design bears many similarities to Apple's phone that launched in November, which uses the cutout to house a face detection system among other sensors. It's not an entirely unexpected design — previous leaks have suggested users will be able to hide the notch by displaying a black background either side. Last week, a Reddit account called "LG_Support" asked users on the Android subreddit how they feel about notches, but the post disappeared amid a barrage of criticism.
The phone is expected to ship with a six-inch IPS LCD screen with an aspect ratio of 19:9. Internally, the phone will likely pack a Snapdragon 845 system-on-a-chip with either 4GB or 6GB of RAM and 64GB or 128GB of storage. A dual lens camera system will offer two 16 megapixel sensors, with the secondary sensor likely offering a wide angle. It has a fingerprint sensor, a USB-C charging port, and yes, a 3.5mm headphone jack.
LG has a history of experimentation with its flagships, offering a modular accessory system for its G5 in 2016 (subsequently removed in the G6 the following year). LG is not the only smartphone maker offering a "notch," though, with the upcoming OnePlus 6 and Asus Zenfone also set to use the feature. Google has in fact announced the upcoming Android P release will include support for screen cutouts to aid app development for these new devices.
Release date for the G7 is unclear, but rumors point to a release as soon as April or May. When it launches, LG users will finally get to recreate the Bert from Sesame Street viral image.
It may not be long before the notch looks outdated, though — Apple is rumored to be exploring ways to ditch the feature and offer a screen that stretches to the edges on all sides.