Why Sunday Was a Positive Sign for Ryan Shazier's Spinal Injury Recovery
The Pittsburgh Steelers linebacker is still recovering from a devastating spinal injury.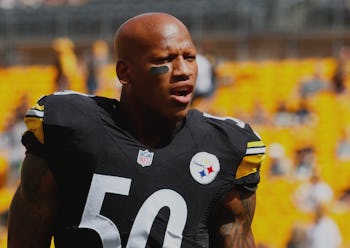 Getty Images / Justin K. Aller
The Pittsburgh Steelers lost to the Jacksonville Jaguars on Sunday during the AFC Divisional Playoffs by 45-42 — an unexpectedly high scoring game that saw the Jaguars continue their upward surge and head into the AFC Championship game against the New England Patriots. The Steelers were undoubtedly hampered by the loss of defensive linebacker Ryan Shazier, who sustained a spinal contusion on December 4 during a tackle attempt against the Cincinnati Bengals — an especially severe injury even for a contact sport like football. Shazier currently cannot walk, let alone play football.
Still, recovery is possible, and there were already signs of hope over the weekend. Shazier made it to the game on Sunday to support the Steelers, 10 days after his father informed reporters that the linebacker had regained some feeling in his legs.
Shazier and his family have been fairly quiet about the details of his condition and ongoing recovery, although he recently posted a photo of himself on Instagram visiting the team's training facility. It's the first photo of Shazier in a wheelchair.
His appearance at the game is certainly a pretty positive sign the recovery process is moving forward. Shazier underwent spinal stabilization surgery soon after his was hit in order to realign the dislocated bones in his spine, and his rehab means a continued, lengthy process to get him to walk again (a return to football is possible, but its a secondary goal).
Learning to walk again is not just a physically strenuous process, but a psychological journey as well. That's why Shazier's appearance at the game and his visits to his teammates is such an encouraging scene — it means his spirits are high, and he's enthusiastic about surrounding himself with a familiar environment.
A spinal contusion is not a common sports injury, but roughly seven out of every 10,000 football players are victims to such devastating events. The most recent players to sustain spinal contusions in the past few years all regained motion in their legs, but they all elected to retire from football. Shazier may be an exception, but it's too early to tell.
The timeline for recovery is entirely dependent on the nature of the patient's injury, his or her capacity to heal and experience feeling again, and how quickly someone can regain motor skills. For that reason, it's encouraging to see Shazier has regained feeling in his legs again, and was able to get out to see his teammates play on Sunday.