Powerball's 2015 Rule Change Means Even More $700 Million Jackpots
But it's also harder to win now.
by Monica Hunter-Hart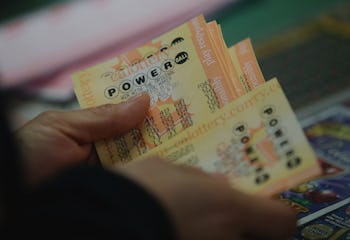 Getty Images / Justin Sullivan
On Wednesday, anyone over the age of 18 in the United States could win $700 million. All it takes is entering Powerball, the popular lottery game that's making waves across the country by offering up its second-largest prize ever. If it seems like the game's jackpots are higher than ever these days, that's because they are.
In 2015, Powerball decided to fight shrinking ticket sales with a major rule change. The goal: to make it easier to win smaller prizes, but harder to win big ones. If no one snatches a jackpot, it sticks around and gets bigger for the next round — and larger numbers draw more people to participate, because they perceive there to be a greater payoff for a small ticket investment even if their chances of winning are slim.
"The ball pool for the main numbers is increasing from 59 to 69, while the ball pool for the Powerball is decreasing from 35 to 26," read an announcement of the rule change in Lottery World. The main numbers are for the jackpot, and the Powerball numbers are for the lower-level prizes.
For players, that meant that their odds of winning any prize increased from 1 in 31 to 1 in 24, but their odds of winning the top prize decreased from 1 in 175,223,510 to 1 in 292,201,338. That also means more victorious participants overall but fewer who hit the jackpot.
"The proposed rule is intended to increase the odds of winning any prize while decreasing the odds to win the jackpot," Robert Williams, executive director of New York's Gaming Commission, told Lohud.com.
Look out for the drawing tonight at 10:59 p.m. Eastern. If you can't decide on a series of numbers to enter, maybe consider the digits from a fortune cookie, which are actually lucky. If you do win, consider asking for your prize in cash.