The Most-Pirated Man in Porn Is Getting Angry
Adult film director Greg Lansky sends 50,000 takedown notices a month.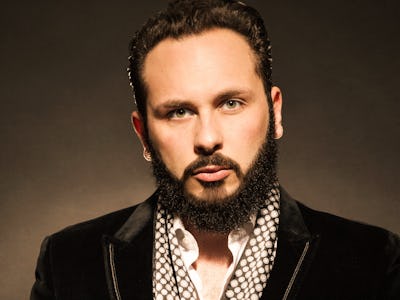 Greg Lansky
Greg Lansky is proud to be the most-pirated man in porn, but he's also annoyed.
"Piracy sucks," says the CEO and creative lead behind Blacked, Tushy, and Vixen. "It takes money directly out of my pocket, but I continue to make money in porn because I'm doing things differently from the rest of the industry."
Lansky, a 34-year-old Frenchman living in Los Angeles, started his porn empire in 2014 and quickly differentiated himself by producing some of the best porn on the internet. His videos are shot on high-end cameras, make use of professional sound and lighting, high-end cameras, and feature top-notch talent. He's also a strong believer in porn's potential: "Adult performers, what YOU do is ART," he tweeted earlier this year.
Lansky's focus on quality and production value is working. He won the Adult Video News (AVN) Best Director award in 2016 and 2017, along with AVN awards for Best Cinematography, Best Anal Sex Scene, and a dozen more. Together, Lansky's sites get 20 million monthly uniques, and with users paying up to $30 a month to access his content, he claims his revenues are "superior to 95 percent of the adult industry."
But the biggest mark of his success is also the bit that frustrates him most: rampant piracy of his content. Lansky works with a company called xTakeDowns.com to identify when his videos are pirated and to solicit their removal from offending sites. That company "identified my work as the internet's most-pirated adult content," says Lansky.
He estimates that he sends out 50,000 DMCA takedown notices every month to the so-called "tube sites" that host free smut across the internet. Tube sites are easily understood as self-contained "YouTubes of porn." Visitors browse content by category or date, and can even search keywords to find whatever content suits their tastes. On the surface, tube sites are propagated by a community of registered users who upload the videos that appear on each page, exactly like YouTube.
Structuring a site this way means that when copyrighted video ends up on a public server, wrongdoing is assigned to the individual uploading the content, not the site itself. The onus is on the copyright holder to notice the offense and take proper action. It's a surprisingly advantageous structure for those in the business of showing ads against adult content. In fact, Lansky identifies the relationship between tube sites and the ad networks that make them profitable as the definitive problem entrepreneurs face in the adult world.
Even after successfully completing a DMCA takedown process, Lansky will still see the removed video reappear on offending sites again and again — a fact he finds not a little suspicious.
"You gotta ask yourself," he says, "what is the motivation of hundreds of people around the world to spend their internet time uploading adult content? Why would a normal human being with an internet connection and an average income spend hours and hours behind their own computer doing this? … If it's their content, their mixtape, their edit, then there are thriving communities of artists uploading self-produced work out there. But other than that, [tube sites are] a piracy machine fueled by online advertising."
Tube site giant MindGeek did not reply to a request for comment.
Porn star Kendra Sunderland's first appearance on Blacked is Lansky's single most-pirated video. As it's taken down from one tube site, it appears on another right away. Lansky estimates he's lost revenue "in the millions" on this single piece of content.
Part of the problem, he says, is that the relevant laws are simply out of date. "The laws that supposedly exist to help me protect my intellectual property were created during the days of dial-up," he says. "They don't work for today's modern internet."
And given porn's bad reputation, there's not a lot of external interest in protecting his business, though he argues his approach is as safe and respectable as the adult world gets. "I produce content that's sitting behind a pay site on a platform that requires a credit card. Customers have to be at least 18," he says. "Tube sites follow none of these regulations and make lots of money using my work."
Don't mistake Lansky for a starving artist. It may be hard to pity a porn entrepreneur who regularly posts pictures of himself chilling on yachts with an entourage of well-endowed models, but he's selling a vision of porn that goes beyond himself. If people in the adult industry are actually going to earn a respectable wage, it depends on porn consumers paying for their finished product. And Lansky has already cracked that code meaningfully.
As he wrote on Instagram last week, captioning a picture of himself with model Eva Lovia drinking champagne by a pool, "Know your worth & never settle. #fridayvibes."