The Coolest Wearable Tech at This Year's Boston Marathon
We took a look at who brought what along for their run at the Boston Marathon.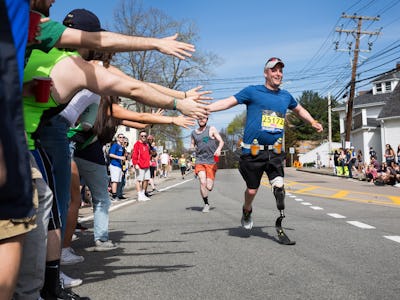 Getty Images / Kayana Szymczak
Walking around Copley Square this morning, the telltale signs of the yearly Boston Marathon were all there: The aluminum-insulated blankets, a million cheap sponsored water bottles, college students pretending to not be violently inebriated at ten in the morning, freshly screen-printed t-shirts worn by the families of runners. But look more closely, and you'll see signs of change.
The look and practices of both professional and amateur runners making the great 26.2-mile trek have changed significantly in the last handful of years, largely thanks to the rise of wearable tech. Gone are the days of the cheapo pedometer and, as many proud spouses and fans informed me on Boylston Street today, the ubiquitous FitBit is no longer considered the cutting edge. That only counts steps and other vital signs, and technology has now started to actively assist runners. In fact, at least one runner on the tarmac today wouldn't have been able to make the journey at all without the help of cutting-edge wearables.
Erich Manser of Littleton suffers from retinitis pigmentosa, a degenerative eye condition that has caused his sight to gradually worsen since he was five. Manser has become something of a legendary athlete, completing fifteen marathons and holding an Ironman swimming world record. Many of his accomplishments came with the help of a guide, but on Monday, the 44-year-old ran with wearable technology from AT&T service Aira, which helped him navigate through the course with a remote assistant named Jessica based all the way out in San Diego.
Aira has tested remarkably well as a wearable aid for the visually impaired in day-to-day life, but Manser's needs require that Jessica not only navigate him through a massive crowd of runners, but provide efficient directions for an athlete moving at a considerable speed. The equipment has never been tested under these conditions before, and Manser's feedback will be considered by the company when continuing to develop the software.
"Generally when I have David, my sighted guide, I have him running on my left and we're each holding the end of a tether," he told Boston.com in a recent interview. "Jessica will be giving me real quick-hit reference visuals. For Jessica to be there to say, 'OK, you have a gentleman here on your right who's inching his way in,' that will allow me to call out in some way to alert him that he's kinda wandering into my lane."
While Manser will be experimenting with technology in a more high-stakes scenario than most runners incorporating wearables into their training regimen, a number of spectators pointed to the wide variety of watches and clips worn by the majority of the runners as they passed. Of the 30,000 runners who entered this year's event, most are running as a hobby, but many closer to the front of the race sported some impressive tech, as well. Most of the names dropped are items released in just the past few months, making this the marathon debut for some pricey accessories.
The January release of the Garmin Fenix 5S impressed many observers, while the Suunto Spartan Ultra users wondered whether their ownership was being lusted after or bragged about. Both wearables have all the GPS, step-counting, music-playing capabilities of the gadgets listed above, plus battery lives lasting over twenty-four hours, even with all apps running.
Some math for you: The average battery life of a runner's wearable clocks in somewhere around five hours and the average time it takes for a runner to complete the Boston Marathon is just about four-and-a-half hours. The extra boost of the Garmin or Suunto brands became a must for some competitors, even though its price tag can creep as high as $800. While I noticed a handful of them on the course, most bright bands I caught sight of were marketed for the runner who's doing it for themselves.
"It'd be nice to have one of the fancy ones," Thomas the 27-year-old husband of a runner in the marathon, told me. "Maybe if we just didn't need to pay rent for a month or something."
He cited his wife's Pebble 2, which markets around $130, as the more sensible option for runners who are looking more for a personal challenge than to break any records. Like many other wearables in the $75-$200 range, the Pebble 2 can time a run, monitor heart rate, connect to other running apps, and has a battery life that can last up to a full week. Comparable models include the Polar M400, the MioSlice, and the now-ubiquitous FitBit.
Watches are not the only new tools that have become ubiquitous on the course over the past few years. Bluetooth headphones of various sizes, shapes, and brands could be seen in the ears of nearly every runner. Other products that are less popular, but too unusual not to mention, include a $200 pair of smart-socks, a step-sensing smart-hat, and a smart shoe, which hasn't taken off with runners quite yet due to faulty performance in past years. The primary function of the new Altra Q smart shoe model is safety, as it provides you with data that helps you to not grind your joints into a fine dust. There's also a smart bra due to be released later this year.
There are very few runners of any caliber that don't acknowledge the need to adapt in order to stay competitive. While some of the older runners on the course proudly kept it old school, even those who had begun running marathons before "smart" was ever a prefix seem to have quietly accepted it as a way of the future.
"Nothing I ever needed," said David, 64, who ran the Marathon three times in his forties. "But everyone's got their toys. I got an iPad last year, you know."