Elon Musk Says The Tesla Model 3's Dashboard Is Just Fine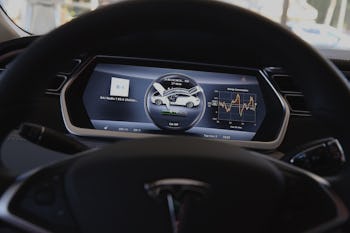 Getty Images / Justin Sullivan
Since the Tesla Model 3 was first revealed, fans been obsessing over every detail of the car's display. One thing, for sure, is out: Elon Musk confirmed on Twitter Tuesday that the Model 3 will absolutely not have a speedometer.
When a fan begged for a central digital speedometer in the Model 3, Musk's response was, well, "no." The fan responded by saying that he would be happy to spend the extra $50 on a simple two-inch LCD speedometer if nothing else, but Musk responded "you won't care."
It's a big move. Speedometers are vital for drivers to make sure they're not breaking speed laws. A representative from the National Highway Traffic Safety Administration tells Inverse that speedometers must be located so that when activated, they are visible to a driver when the driver has adapted to the ambient light roadway conditions and is restrained by the seat belt. Car manufacturers normally place it behind the steering wheel to abide by this condition.
Instead, the Model 3 will tell drivers the speed through a different method:
Unlike the Model S and Model X, which feature two computers with their own individual displays, the Model 3 has just one. It's just one of the ways the company has opted to cut costs on the $35,000 vehicle to bring it down to a more budget-conscious level.
Some fans have speculated that the car could feature a heads-up display in the windshield, but Musk threw some cold water on that theory too:
Others, like Matt Parra, have crafted mockups of a Model 3 instrument cluster hidden underneath the folds of the front dashboard, similar to a Honda Civic. But with Musk's latest intervention, it seems even this is out of the question.
The car's speed will undoubtedly be displayed on the central terminal, but that seems like it's in a bit of an awkward, or at least non-traditional place. But perhaps Musk believes that the speedometer issue won't matter too much as the Model 3 is focused on autonomous driving. By the time many consumers will have the car in their possession, Tesla should be rolling out its software capable of cross-country autonomous road trips. Without the need to look at how fast the car is moving, the Model 3 could be a glimpse at what more cars will look like in the future.
Update 3/30: Elon Musk has posted a new tweet that explains in more detail how the car's speedometer will work. It has now been included in the story.