As DARPA Preps for a Pandemic, It Has a New Enemy in Trump
What do you do when the president is an anti-vaxxer?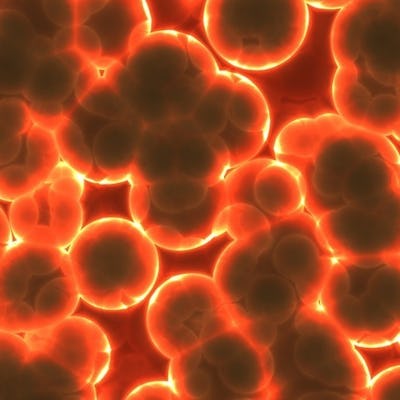 Matt Hepburn thinks about global pandemics a lot. As the program manager behind DARPA's new Pandemic Prevention Platform, when he looks at the way the world responded to Zika, the H1N1 flu, and the recent Ebola outbreak, he sees room for improvement.
"I've been working on infectious diseases of national security significance," Hepburn tells Inverse. "My whole career has been based on this deep sense of apprehension that we have these threats that are out there, coupled with [the fact that] we aren't prepared as a global community."
Over the course of the next three to four years, DARPA — the military's advanced research agency — wants to develop a process that would allow it to go from identifying the cause of a major outbreak to coming up with countermeasures within 60 days. The P3 program aims to develop "an entire system capable of halting the spread of any viral disease outbreak before it can escalate to pandemic status," the agency declared in February.
Right now, it can sometimes take a year or more for drug companies to manufacture the medicine to combat an outbreak. Hepburn says that's not good enough. "By the time we're even getting close to having a product, the outbreak is over. What good is that?" he says. "We still have this great gap in being able to respond expeditiously."
Hepburn and his team are soliciting ideas for how to accomplish this goal, but much of it will likely revolve around RNA- and DNA-based technologies. The goal is that a person, once given the medicine, will be protected within one to three days.
The idea is the create a "firebreak," the same as trying to contain a wildfire. If health care providers can protect a large population quickly, that limits the rate of infection before it gets out of control.
"Protected," in this case, is a broad term to encompass several stages of treatment. The developed medicine could be preventative, it could be used to mitigate the impact of the disease after exposure, but before symptoms emerge; it could be a way to stop the disease from spreading, or it could be a full-on cure. At this early stage, Hepburn wants to cast a wide net and catch as many options as possible.
What Hepburn is asking for is difficult, and he knows it. "People think we're crazy. People say it's impossible, it's really hard, we can't do this for all sorts of reasons," says Hepburn. "But that's how we know this is a space DARPA should be in, because we're supposed to push the community, and put out a challenge." The program is designed to work equally well to combat a naturally occurring disease of a manufactured biological weapon.
Hepburn previously worked in the White House as the Director of Medical Preparedness at the National Security Council, where he worked across agencies to ensure the government was on the same page when it came to medical national security threats. He stresses the same is true of his position at DARPA. His work relies heavily on cooperation with the Centers for Disease Control and Prevention, the National Institutes of Health, and the private sector.
When it comes to the current make-up of the government, though, there is no shortage of critics who say the Trump administration itself could be a public health catastrophe.
For one, Trump himself regularly spread discredited, bogus information that purported to link vaccines with autism, and surrounds himself with people who believe the same.
For another, his administration is loaded with climate science skeptics, a clear sign that Trump and his cabinet are willing to put ideology and politics before empirical facts. The dangers that approach can create, in the face of a pandemic, are numerous. In 2014, New Jersey Governor Chris Christie quarantined a nurse from Doctors Without Borders who had worked on the Ebola outbreak, against the best practices of that organization, and the entire medical community.
When asked about politicians who put politics before science — like Christie did — Hepburn declines to answer.
"What I will say, is that decision making during a crisis is incredibly challenging," he says. "What we want to do is give people managing the response a tool in the tool belt."
Outside of government, scientists are sounding the alarm that Trump could herald a new era of public health crises.
Benjamin Z. Houlton is the director of the John Muir Institute of the Environment at UC Davis, and worries about how the new administration could make the world more susceptible to large-scale pandemics, and that these issues need to be looked at holistically.
"We are already seeing climate change impacts play out in rising sea levels, crop damages, flooding, fire, and drought. This hurts human health, natural ecosystem habitats, and damages our economy," Houlton tells Inverse. "Without natural habitats, we lose one of the nation's first lines of defense against the spread of disease. Healthy and diverse ecosystems protect us from the spread of all sorts of viruses and pathogens."
Trump's approach to vaccines alone poses a massive risk to people in the United States and internationally. "It took decades of hard work by doctors, the Centers for Disease Control and Prevention, and state and local health departments to get vaccination rates to where they are today: over 90 percent for vaccines against polio, hepatitis B, chickenpox, measles, mumps, and rubella," Saad Omer, chair in global health at Emory University, writes in the Washington Post. "Even a modest decrease in those rates could be enough to cause future outbreaks. And because political polarization can push people to change their belief in basic facts, making vaccines a political cause for one side or another may lead to exactly that."
Houlton, the UC Davis professor, adds that Trump is waging an attack on the very idea of the commons. "The greatest threat I see is on public goods — things we all benefit from. Whether it's access to international scholars, clean water, air and healthy soil, our society's life support systems are at risk," he says. "The things that make the U.S. so special are being completely disregarded."
These issues are far beyond the scope of DARPA's new P3 program. Even those who are skeptical of the high-tech military office will likely celebrate any and all efforts to reduce or eliminate the threat of a global pandemic. The exact budget isn't finalized, but a DARPA spokesperson said that similar multi-year initiatives range from $50 million to $100 million. That's money well spent, if it works, and can keep the public calm in the face of another Ebola-style outbreak.
Just as important, though, are the more traditional measures the government takes to maintain good public health. For now, those look to be at serious risk.