Tesla Expects to Deliver 25,000 More Vehicles This Year
The electric car company delivered more cars this quarter than ever before.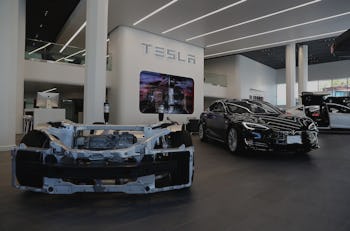 Getty Images / Justin Sullivan
On Sunday, Tesla announced that it sold and delivered 24,500 over the last three months — 15,800 Model S's and 8,700 Model X vehicles — a record number of cars sold per quarter for the electric car company.
Back in quarter two (April through June 2016), Tesla predicted to only sell around 16,500 cars come this time of year. Tesla has always been a little off in its estimates, typically shooting for the moon when it comes to deliveries. But this time they were delightfully surprised, selling 8,000 cars, 32 percent more than predicted.
This is great news for Tesla, considering the drama they went through in late 2015. Back in June 2016, Musk finally owned up to chaos surrounding the production of Model X. Musk claimed that a shortage in "internal capabilities" resulted in parts arriving late, people getting fired, and a low sales quarter.
Now that the production unit is equipped to produce and deliver 50,000 cars every six months, this means Tesla is creating 750 Model X vehicles per week. In the past, the company's delivery quota has been pretty rocky. In the previous quarter (April through June 2016), they estimated to deliver 17,000 cars, yet they only managed to sell 14,402. During the winter, they predicted to deliver 16,000 vehicles but only distributed 14,820. Between October and December of 2015, Tesla was pretty much on point with their low-ball distribution goal range of 17,000 to 19,000, as they ended up delivering 17,478 cars. Despite being such a pathetic number, it did surpass their previous quota for July through September 2015 of 11,603 vehicles.
Sadly, these delivery figures pale in comparison with Tesla's waitlist. The Model 3, which doesn't even ship out until late 2017, currently has more than 300,000 people in line. Keep in mind they have already put down their $1,000 reservation deposits.