Facebook Messenger Instant Articles Could Keep Politics Private
Now your family has more reason to send you their crappy political views directly.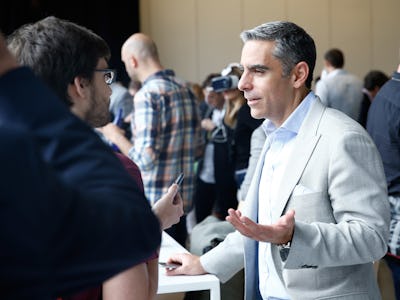 Getty Images / Brian Ach
Between uncle Dan spouting off his support for Donald Trump's immigration policy, aunt Susie defending Hilary Clinton's ties to Wall Street, and your friend Pat's staunch "Bernie or bust" stance, Facebook's newsfeed has become a real dumpster fire for people who haven't discovered the "Hide Post" feature yet. Fortunately, the world's largest social network is aware of the problem, and just added a new feature that should encourage more users to share their views in private messages, rather than out in the open.
David Marcus, head of Facebook's Messenger platform, announced today that Instant Articles will be coming to the private messaging app, making articles shared directly load just as fast as the ones pre-loaded into the general Facebook app.
"Over 900 million people share, and read news stories privately on Messenger," Marcus writes on his Facebook page. "From now on this experience will be meaningfully improved as stories will load up to 10 times faster than standard mobile web links, and will be enhanced with dynamic features that make the content more fluid, interactive and immersive."
Instant Articles — denoted by a little lightning bolt in the top right corner — have been a feature on the greater Facebook mobile newsfeed for over a year. In the system, selected articles open directly within Facebook rather than sending users out of the app to a web browser, which makes them load far quicker. The concept works the same in messenger, and if Marcus' accompanying photo is any indication, there won't be any selective blocking of conservative websites, so Uncle Dan can send around the full brunt of Fox News' Trump coverage to all his buddies (and hopefully not to you, directly).
Still, how often does someone share an article in that group chat with all your old high school friends and you ignore it? Or maybe Mom sends you the local report on the latest drug the kids are ingesting and it takes so long to load that you just fake a response? Facebook is figuring we'd all be more likely to read those articles if they actually loaded faster.
Earlier this summer, Facebook announced that its algorithm is being tweaked to move away from "newsy" posts and back to more social interactions. It also decided to kill off its uniquely designed news app, Paper. All of these are signs of a larger move for the company towards its WhatsApp and Messenger platforms, which have been wildly successful in the midst of an ongoing encryption debate and the emergence of artificial intelligence powered bots.
With all of this movement to messaging, it's not crazy to think sharing news and information in the future might be much more direct. Marcus says the update is coming to Android today and to iOS in the coming weeks.