DARPA Employees Should Have "Their Hair on Fire" or Get Fired
New hires are literally given an "expiration date" to innovate or leave.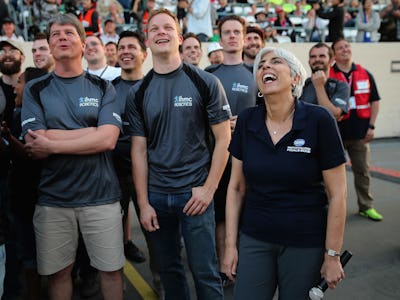 Getty Images / Chip Somodevilla
The federal government isn't exactly known for innovating at a rapid pace, but that's no excuse employees at DARPA, the most advanced defense technology operation in the world.
And innovation isn't just a byproduct of hiring brilliant people — it's a byproduct of hiring brilliant people and then making it very clear that they'll be given the boot if they don't produce brilliant stuff. Take this gem for example, from the latest DARPA innovations report: when a new employee joins DARPA, their ID badge is literally printed with an "expiration date," on their tenure, a reminder to work faster in the short time they have.
Reviews on Glassdoor seem to suggest that DARPA employees are happy with their work environment, with several commenting that the typical bureaucratic hiccups associated with government work don't apply. But the work environment is admittedly fast paced — the DARPA report says "program managers who come to DARPA must be 'fired up to do exciting things,' must have 'their hair on fire,' determined to achieve something new and important during their short time at the agency."
Because even directors' days at DARPA are numbered — the agency says it usually shows even its top bosses the boot every four or five years. The current director, Arati Prabhakar, has been in since 2011, so it's very possible she's at the end of her tenure.
The high-pressure work environment and extremely high turnover rate are designed to make sure DARPA keeps up with the private sector, which is often subject to less cloying regulation and bureaucracy.
"The short tenure and continual rotation of program managers and office directors and deputies are probably the single most distinctive features of DARPA's culture and the most important contributors to continuing innovation," the report says. Information Innovation Office Program Manager Mike Walker notes that urgency, "is the heart of the whole thing. It is an impetus to venture into the unknown, to get people to put something forward, to build the prototype warts and all."
DARPA seems to believe that its workplace culture allows them to treat employees well, while motivating them and encouraging them to take risks. Many companies would grieve after the loss of a long-time employee, but DARPA often views experience as a hindrance to progress.
"Long-time employees sometimes use the fact of a past failure to prove that something can't be done," the report reads. "But, what was once impossible may be feasible now thanks to the development of new tools and technologies, or the increased urgency of a need. Hiring people who are ignorant of past failures sometimes opens the door to breakthrough success."
Silicon Valley tech companies also boast high-intensity work environments, some even more so than DARPA's employee expiration policy. Amazon warehouse employees have fainted on the job, and those working in offices are trained to prepare for an unrelenting pace. A small number of Facebook employees have complained that they are on call 24/7 for six weeks out of the year, and while Google employees seem to be very happy with their jobs, everyone at the company is usually overqualified and has to work hard to stand out. And all of that chaos doesn't even touch on the systematic lack of diversity in Silicon Valley offices.
So far, it seems like DARPA's workplace environment is working. The agency has been largely responsible for huge technological developments like GPS, the artificial intelligence research that laid the groundwork for Siri, and the fundamental principles of the internet. Today, the agency is responsible for those adorable robots you've seen people kicking to the ground on shows such as Silicon Valley and fleet of cutting edge autonomous military drones.
You can read the full innovation report here: