DARPA's Insane Robots Take Over Chicago's Museum of Science and Industry This Summer
The exhibit runs through the defense agency's long history.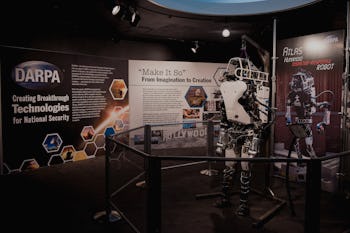 Museum of Science and Industry, Chicago 
Visitors to Chicago's Museum of Science and Industry this summer won't be able to walk alongside Boston Dynamics' Atlas robot or kick its four-legged Spot robot, but they will be able to see those creations and many others from the Defense Advanced Research Projects Agency's long history.
DARPA, by its nature, is a fairly secretive organization, but on Thursday, the U.S. agency will open up to the public a four-month exhibition of its technology called DARPA: Redefining Possible.
The self-guided walk through will take visitors through the history of the agency including recent inventions such as the self-powered DEKA prosthetic arm, a scale model of DARPA's 132-foot autonomous submarine-tracking boat that was christened just last month, and an exoskeleton suit that enhances a soldier's strength.
From its inception in 1958 as a response to the Soviet Union's launch of Sputnik, to a leading robotics and defense research agency, Steve Walker, deputy director of DARPA, says its goals have been unwavering.
"DARPA's unchanging mission for nearly 60 years now has been to prevent technological surprise and to develop breakthrough technologies for national security," Walker said in a media call. "Accomplishing this mission demands truly revolutionary technological advances and not incremental improvements."
Kathleen McCarthy, director of collections and head curator for the museum, says that 1.5 million people visit the museum every year.
The museum's known for interactive experiences and DARPA is no exception. McCarthy said the museum will include screens that will allow users to create their own robot and look under a microscope at the intricate detail of computer chips fueling the latest in A.I. technology.
"You don't have to be an engineer like me to appreciate these creations that were conceived and created here in America," says Steve Walker, deputy director of DARPA. "They're a great reminder that we're all apart of an amazingly innovative society and that if we put our minds to it we can solve just about any problem."