Amazon's Jeff Bezos Gets Candid At CodeCon, Announces Email Address
Amazon CEO and Blue Origin founder Jeff Bezos decided to show people how to grow "thick skin" on the internet by giving out his e-mail address.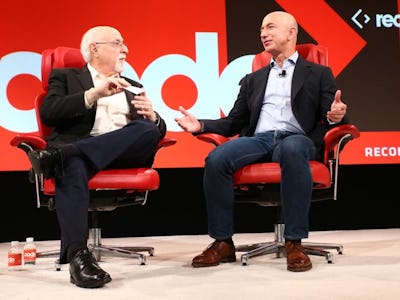 ReCode
Today, during a CodeCon panel moderated by ReCode's founding editor Walt Mossberg, Amazon's Jeff Bezos discussed the company's plans for the future, now that the market for smart-home assistants has exploded. He also expressed his opinions about friendly competitor Elon Musk, Donald Trump, and the controversy surrounding Peter Thiel's Gawker lawsuit.
While the Thiel question was hypothetically stated, Bezos's response was fairly direct: "Seek revenge and you should dig two graves — one for yourself. The best defense against speech that you don't like about yourself as a public figure is to develop a thick skin. You can't stop it."
Bezos has always been the subject of (mostly legitimate) criticism thanks to his companies' high-end rivalries and investigations that revealed horrible mistreatment of Amazon employees. Still, the commentary that followed the conversation on Twitter rang true — especially after Bezos gave out his email address in a demonstration of tech bravado that left many puzzled.
Bezos went on to talk about the success of Amazon Studios, and how he doesn't necessarily see Netflix as a competitor because, as he says, "people will subscribe to both." He attributed the success of shows like Man in the High Castle to the Golden Globe-winning quality of Amazon's lineup, which includes recent winners like Transparent and Mozart in the Jungle. Bezos offered small updates on what's coming for other areas of Amazon — specifically with the Echo and Alexa — stating that over 1,000 people are currently working on the device and its software. With a highly competitive market growing rapidly, it's a smart idea on Amazon's part to tighten up ship and continue to develop one of their most popular home devices.