Google Home to Be Introduced at Google I/O Developer Conference
Google's rival to Amazon Echo could make its debut.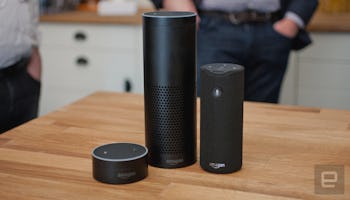 Engadget
Google's Wednesday I/O conference is expected to be a huge display of advances in tech and improvements to several Google products.
The company is also expected to announce new projects to broaden its reach in trending technologies. Earlier this week, Google prefaced its plans with small updates about certain apps, including Translate's new Tap to Translate functionality. Now, the New York Times reports the company plans to stake a place in the voice-activated, home-device market.
Amazon Echo comes in the form of a bluetooth speaker, and functions a lot like any other A.I. personal assistant. Google's response to the Echo will be called "Home", and will be able to answer simple questions and execute basic organizational tasks. The Amazon Echo, powered by its specialized Alexa A.I. technology, went from a new idea that consumers didn't seem too sure of, to one of the most popular household items today. It's no wonder that Google wants to gain the lead in this particular field.
Google has a bit of catching up to do in that respect: Alexa's latest advancements include an option to order an Uber or a fresh pizza with little more than a voice command. "Google has seemingly let the competition catch up — level the playing field, even," Forrester Research analyst Julie A. Ask told The New York Times. "It's all the more critical that they do well here, given earlier misses on instant messaging and social media."
Among the possible advancements in Google's virtual agent software, the company is expected to announce updates to its Android Pay functionalities. Google's I/O conference kicks off tomorrow morning at 10 a.m. Pacific.