Your Facebook News Feed Is About to Become a Lot Less Newsy
Facebook is changing its algorithm to become more social.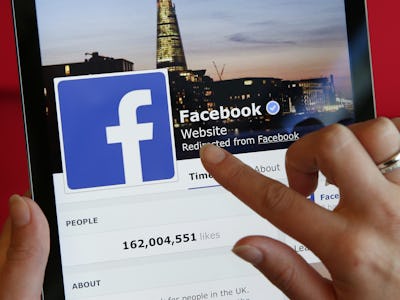 Getty Images / Peter Macdiarmid
Anyone who has used Facebook for a number of years now has seen the social network move from a very social experience to a pseudo news app, where often posts from your favorite media sites are pushed to the top rather than the photos, videos, and articles shared by your friends. Today, Facebook announced a dramatic shift in its algorithm that will make the site more social again and less newsy.
"Our top priority is keeping you connected to the people, places and things you want to be connected to — starting with the people you are friends with on Facebook," reads the announcement on its blog. "For example, if you tend to like photos from your sister, we'll start putting her posts closer to the top of your feed so you won't miss what she posted while you were away."
This machine learning has been a part of the news feed for a long time now, but the company is now signaling it will favor shares from people (or at least profiles) more valuably than popular posts from news or celebrity pages.
If you're a page owner, Facebook does anticipate this will negatively impact traffic to your page and thus your website. Shares are going to become a lot more important.
Overall, we anticipate that this update may cause reach and referral traffic to decline for some Pages. The specific impact on your Pages distribution and other metrics may vary depending on the composition of your audience. For example, if a lot of your referral traffic is the result of people sharing your content and their friends liking and commenting on it, there will be less of an impact than if the majority of your traffic comes directly through Page posts. We encourage Pages to post things that their audience are likely to share with their friends
Back in April, Facebook began mildly shifting content in this fashion and publishers have already noted a decrease in traffic following a year in which traffic to publishers already fell 32 percent. These publishers, such as Inverse, rely on Facebook's algorithm to drive traffic and many are based on ad revenue that is reliant on those audience numbers.
Facebook says after friends and family, users value information and entertainment from their feeds and this new algorithm shift will reflect personalized content in that order.
On the entertainment side, users will see more live videos and photos shared by friends, but it's not clear how much content there is to share. While Facebook is still far and away the most popular social network, even among the 71 percent of 13- to 17-year-old teens that use the platform, their behavior has changed drastically since the app's inception.
Millennials aren't posting as much to Facebook as they used to and have turned to more private messaging services such as Snapchat or Facebook's other owned social platforms such as Instagram, Facebook Messenger, and WhatsApp. Facebook seems to be betting that this algorithm change will get its users to post more about the mundane aspects of their lives rather than just the big moments.
On the information side, Facebook has already been accused of favoring liberal news sites over conservative outlets, and they knew this algorithm change would stir those sentiments once again.
"We are not in the business of picking which issues the world should read about," Facebook wrote. "Our integrity depends on being inclusive of all perspectives and viewpoints, and using ranking to connect people with the stories and sources they find the most meaningful and engaging. We don't favor specific kinds of sources — or ideas."
Perhaps more concerning, though, is that this algorithm change will in fact continue to entrench users in their own political, social, and economic beliefs rather than offering different viewpoints. A 2014 Pew Research Study showed this is already the case, with 23 percent of all respondents and nearly half of all conservative respondents claiming they "mostly" only see news articles that align with their beliefs. The study found that liberals were also most likely to block content that opposed their views.
Of course, for decades Americans simply sat down in front of the same nightly news channels and had the same viewpoints fed to them each night. So while Facebook is certainly more democratizing than that, it's still concerning to purveyors of diverse thought that the social network would move in this direction.
"If you could look through thousands of stories every day and choose the 10 that were most important to you, which would they be? The answer should be your News Feed," Facebook wrote. "It is subjective, personal, and unique — and defines the spirit of what we hope to achieve."