Facebook Begins Running Tests For New Version of The News Feed, Again
Today in Australia, Facebook began testing a new way to sort the News Feed, since we all asked for that.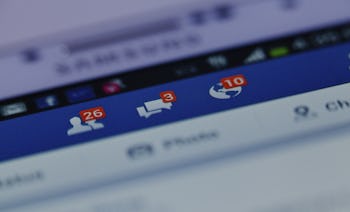 Getty Images/Facebook
Facebook's News Feed has been under scrutiny since the default setting for a user's timeline changed this past year. For anyone who didn't bother updating (or didn't care to) the News Feed follows an algorithm that shows users posts to meet their interests, rather than the latest from the friends and pages they follow. Now, Facebook is looking to switch the timeline up again, and sync it a little more closely with its trending topics. Amid controversy over Facebook's political bias, the company began quietly running tests on topic-based feed organization.
According to a new report from Mashable, Facebook users in Australia began noticing changes to their timelines on Friday morning. Upon loading the new timeline, users were delivered a notification from Facebook with instructions on the new function: "There's a new way to see a stream of stories that focus on a specific topic," the pop-up read.
Users were reportedly given a few default topics to choose from, and could personalize those topics, organizing them into tabs. Rather than reorganize the user's actual timeline, the topics are sorted away for the user to check, one by one. If the move results in any ease for Facebook users, the users who might continue to suffer are pages and brands. Mashable reports that its initial test shows more content from pages – not likes by the user under the new tabs– saying that the tabs can include "stories from friends, friends of friends and public content from people and pages."
The timeline's concept isn't new: previous incarnations included a desktop version and a mobile version on Android. Since the tests are still nascent, there's no telling how brands or page managers will need to adjust their content creation process — or how much more they'll have to pay to stay on the front page of someone's timeline.