Tesla's Non-Disclosure Agreements About Defects are "Unacceptable," Say Feds
A letter Tesla sent a customer raised a red flag -- after the letter was made public.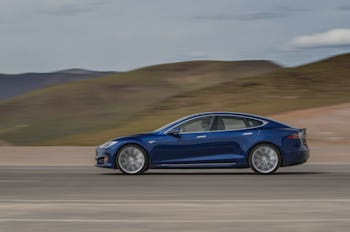 Tesla
Tesla has received a scolding from the federal government for requiring owners to sign non-disclosure agreements that suppressed reporting possible defects. The National Highway Traffic Safety Administration, which issued the warning, has also launched a review of Tesla over a problem with the suspension in the electric car company's Model S.
The review will determine whether enough evidence exists to warrant a formal recall. It will also reportedly examine whether allegations that Tesla "covered up" the faulty suspension with NDAs has any merit.
Tesla published this statement this morning that rejects the idea of a cover-up, reaffirming confidence in the Model S suspension and casting aspersions on the author of the original critical report. But it does not fully answer why NHTSA Communications Director Brian Thomas told The Daily Kanban:
NHTSA learned of Tesla's troublesome nondisclosure agreement last month. The agency immediately informed Tesla that any language implying that consumers should not contact the agency regarding safety concerns is unacceptable, and NHTSA expects Tesla to eliminate any such language. Tesla representatives told NHTSA that it was not their intention to dissuade consumers from contacting the agency.
Thomas adds:
NHTSA is examining the potential suspension issue on the Tesla Model S, and is seeking additional information from vehicle owners and the company.
The issue of both the non-disclosure agreements and the suspension issues arose after a customer posted the text of a letter Tesla sent offering to pay 50 percent of a $3,1000 repair bill, if he or she agreed to sign an agreement that promised not to disclose the problem.
The particular problem related to excessive wear on the steel ball joint, a problem not unfamiliar to frequent browsers of Tesla forums online. In fact, Tesla itself issued a Technical Service Bulletin in March 2015 acknowledging this very problem.
Such a warning suggests the company was aware of the particular defect but had been trying to avoid a recall by requiring NDAs that seemed to discourage reporting to government agencies.
The NDA reads:
The Goodwill is being provided to you without any admission of liability or wrongdoing or acceptance of any facts by Tesla, and shall not be treated as or considered evidence of Tesla's liability with respect to any claim or incidents. You agree to keep confidential our provision of the Goodwill, the terms of this agreement and the incidents or claims leading or related to our provision of the Goodwill. In accepting the Goodwill, you hereby release and discharge Tesla and related persons or entities from any and all claims or damages arising out of or in any way connected with any claims or incidents leading or related to our provision of the Goodwill. You further agree that you will not commence, participate or voluntarily aid in any action at law or in equity or any legal proceeding against Tesla or related persons or entities based upon facts related to the claims or incidents leading to or related to this Goodwill. [Emphasis added]
The Daily Kanban also found at least three Tesla owners who were required to sign NDAs that contained language promising that they not "aid in any action at law or in equity or any legal proceeding against Tesla" related to a particular incident. One owner's NDA even contained $150,000 penalty violation, placing a heavy premium on the value of non-disclosure.
In a response posted Friday morning to the allegations, Tesla disputed that they ever required such an NDA.
"Tesla has never and would never ask a customer to sign a document to prevent them from talking to NHTSA or any other government agency. That is preposterous," the statement read.
The company also rejected the idea that there was a safety defect with the Model S suspension.
Since we own all of our service centers, we are aware of every incident that happens with our customer cars and we are aware of every part that gets replaced. Whenever there is even a potential issue with one of those parts, we investigate fully. This, combined with extensive durability testing, gives us high confidence in our suspensions.
Tesla certainly aimed to cast doubt on both the reports of suspension problems and any hint of a cover up. The issue remains though that the NHTSA had to demand Tesla drop the warnings from their NDAs. As a result, the problem appears slightly more serious than the company acknowledges in its lengthy statement, in which it attempts to attribute the story to the grudge held by The Daily Kanban's Edward Niedermeyer, who wrote the original report.
This is the same gentle soul who previously wrote a blog titled "Tesla Death Watch," which starting on May 19, 2008 was counting the days until Tesla's death. It has now been 2,944 days. We just checked our pulse and, much to his chagrin, appear to be alive. It is probably wise to take Mr. Niedermayer's words with at least a small grain of salt.
Sure, Niedermeyer may have an axe to grind with Tesla for whatever reason, but short of fabricating evidence altogether, he has raised clear issues that demand review, not defensiveness. Tesla seems more worried about what this scrutiny will do to its reputation than about the allegations themselves, which is fine if those allegations are baseless. It's always ugly when the companies of the future engage in the business practices of the past.