Jeff Bezos Praises Progress Made on Blue Origin's BE-4 Rocket Engine
The team commissioned the first of two new test cells after just seven months of construction.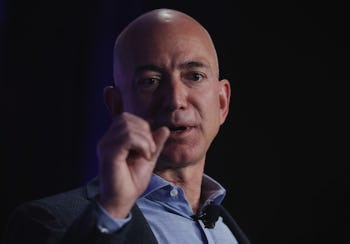 Alex Wong/Getty
Jeff Bezos's Blue Origin is making significant progress in its quest to invent an American-made alternative to the Russian rocket engine it currently uses.
In an update Wednesday, Bezos writes that Blue Origin has commissioned the first of two new test cells that will support further risk reduction testing for the BE-4 engine.
"This test cell is pressure fed and supports the development of the preburner start and ignition sequence timing that will be used on the upcoming full scale powerpack test campaign," Bezos writes in the Blue Origin newsletter. The Amazon.com founder said that the cell was made in just seven months — keeping up with the breakneck pace that Bezos frequently lauds in his updates. "Private funding and rapid decision making are two of the reasons why the BE-4 is the fastest path to eliminate U.S. dependence on the Russian-made RD-180," he wrote.
The team is preparing for the fourth flight of the New Shepard, which this time will include an intentionally failed parachute, Bezos said. The BE-4 is more than four years into development and slated to be ready to fly by 2019, according to United Launch Alliance, which is working with Blue Origin to develop the technology. The two companies are locked in competition with Elon Musk and his team at SpaceX for NASA and private contracts.
The email came on the afternoon of SpaceX's most recent Falcon 9 launch that would send a Thaicom communications satellite into geostationary transfer orbit.