RIP Ray Tomlinson, the Inventor of Email 
The man who made the @ symbol fully relevant will now rest in peace.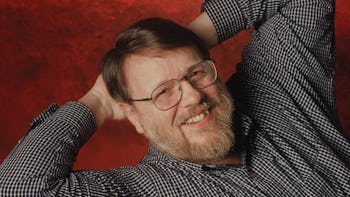 Ray Tomlinson
If you've used the @ symbol once this week, you owe it to mourn the loss of Raymond Tomlinson. The man who is known as first person to develop email, passed away on Saturday morning at 74 years old. With that landmark technological development, Tomlinson reshaped human communication forever.
The Amsterdam, New York, native worked as an intern with IBM while receiving his electrical engineering degree. After getting another degree from the Massachusetts Institute of Technology, he went on to work at Bolt Beranek and Newman where he helped to develop early operating systems like the Advanced Research Projects Agency Network (ARPANET). It was the first application, pre-internet, that allowed computer users to share messages. You know, email. Tomlinson took the @ symbol and made it part of a virtual mailing address, something we use to this day.
For his incredible achievement, he was granted numerous accolades, the George R. Stibitz Computer Pioneer Award from the American Computer Museum, a Webby Award from the International Academy of Digital Arts and Sciences, and and Institute of Electrical and Electronics Engineers Internet Award.
In 2012, when he was inducted into the Internet Hall of Fame, Tomlinson told The Verge:
"The realization that this had become a big thing didn't really come until somebody asked the question, just before the 25th anniversary of the ARPANET, 'Where did email come from?' Several people remembered that I had written this program way back when and called me; I said, yeah, I did that, and they asked when — I gave them the wrong date, and that date has stuck around. It still appears in various timelines as 1972, when in fact it was 1971."
What a humble guy. Not such a good memory, but a true innovator well worth celebrating.