Male breast cancer study highlights the need for pioneering clinical trials
"Some men are not even aware they have breasts."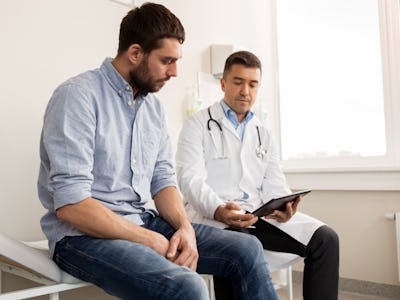 Shutterstock 
In 2019, an estimated 268,000 cases of invasive breast cancer will be diagnosed in women. But each year about 1 percent of all breast cancer cases will appear in men too — which works out to around 2,000 new cases. Male breast cancer is now more common than it was 25 years ago but a solemn fact remains: Experts simply don't know the best way to treat breast cancer in men.
"We have never successfully completed a clinical trial that was designed to test therapies in men specifically," Kathryn Ruddy, M.D., a cancer scientist at the Mayo Clinic in Rochester tells Inverse. "So our management strategies are largely based on data from women."
That means that there could be a far better way to treat these individuals. It may even exist already, and scientists just need to do more research to find out what it is.
Ruddy is a co-author of a study published Monday in the journal Cancer that investigated how male breast cancer has been treated in recent years. Her findings showed that male breast cancer treatments continue to evolve over time, even with a lack of clinical trial data.
"We have never successfully completed a clinical trial that was designed to test therapies in men specifically."
Ruddy and her colleagues tracked the treatment of 10,873 men who were diagnosed with stage I-III breast cancer between 2004 and 2014. Typically the disease onset was when they were around 64 years old, and the five-year survival rate was 79.1 percent in this analysis. Additional research, published in JAMA Network Open in September suggests that men with breast cancer actually fare worse than women do: That analysis included 16,025 male and 1,800,708 female patients and found that male patients had a 19 percent higher mortality rate from the condition than the women.
The question that Ruddy was trying to answer was how are these men treated — and she found that treatment choices are not consistent.
There is an array of options including chemotherapy, breast-conserving surgery, radiotherapy, or endocrine therapy. Endocrine therapy means that a patient is given a drug that helps block estrogen receptors that may live on some kinds of tumors, and spur their growth if estrogen binds to them.
This team reported that endocrine treatment did increase over the study period, suggesting that it is increasingly a way that the condition is treated. This actually conflicts with some past research published in the Annals of Internal Medicine showing that only 77 percent of men with breast cancer received endocrine therapy despite having tumors that likely would have responded to anti-estrogen drugs.
More broadly, anti-estrogen therapy is a case study that is in line with Ruddy's larger point — we need more clinical trials to show just how well these types of interventions work in men.
"I hope that this draws attention to the need for clinical trials focused specifically on male breast cancer," Ruddy explains. "I also hope that it helps us develop and target interventions to improve care and reduce health disparities."
Future of male breast cancer treatment
Fortunately, there's evidence that more clinical trials could begin to happen in the future, albeit slowly.
In August 2019, the FDA put forth a draft guidance calling for the inclusion of more men in breast cancer treatment trials. In that guidance, the agency notes that "This [historical] exclusion has resulted in limited FDA-approved treatment options for males with breast cancer."
"Some men are not even aware they have breasts and not aware they can have breast cancer."
The guidance then argues for some basic changes, including the note that people designing breast cancer treatment trials should "allow for inclusion of both males and females" and investigate how findings for women could be also applied to men.
Even if they can only round up a few men to participate, this could be part of the action that Ruddy is looking for, at least on the treatment side.
But other doctors argue that, while clinical trials are necessary, they are not sufficient on their own. Another prudent step would be to spread the word that men can get breast cancer in the first place, as as Fatima Cardoso, M.D., the director of the Breast Unit at Champalimaud Clinical Center in Portugal told the New York Times.
"Some men are not even aware they have breasts and not aware they can have breast cancer," Cardoso said. "We need a lot of education to remind men they have breasts, too, and should check them."
Overall, Ruddy's work adds to a growing list of studies that are echoing the need for more research into male breast cancer. And if the draft guidance is any indication, their work could be about to pay off.
Abstract:
Background: Male breast cancer (MBC) is a rare disease for which there is limited understanding of treatment patterns and prognostic factors.
Methods: Men with TNM stage I to stage III breast cancer diagnosed between 2004 and 2014 in the National Cancer Data Base were included. Trends in treatment modalities were described using the average annual percentage change (AAPC) and estimated using Joinpoint software for the analysis of trends. Kaplan-Meier curves and the multivariate Cox proportional hazards regression model were used to compare survival between subgroups and to identify prognostic factors.
Results: A total of 10,873 MBC cases were included, with a median age at diagnosis of 64 years. Breast-conserving surgery was performed in 24% of patients, and 70% of patients undergoing breast conservation received radiotherapy. Approximately 44% of patients received chemotherapy, and 62% of patients with estrogen receptor-positive disease received endocrine therapy. Oncotype DX was ordered in 35% of patients with lymph node-negative, estrogen receptor–positive/human epidermal growth factor receptor 2 (HER2)-negative tumors. During the study period, there was a significant increase in the rates of total mastectomy, contralateral prophylactic mastectomy, radiotherapy after breast conservation, ordering of Oncotype DX, and the use of endocrine therapy (P < .05). On multivariate analysis, factors found to be associated with worse overall survival were older age, black race, higher Charlson Comorbidity Index, high tumor grade and stage of disease, and undergo- ing total mastectomy. Residing in a higher income area; having progesterone receptor–positive tumors; and receipt of chemotherapy, radiotherapy, and endocrine therapy were associated with better overall survival. CONCLUSIONS: Despite the lack of prospective randomized trials in patients with MBC, the results of the current study demonstrated that the treatment of this disease has evolved over the years. These findings further the understanding of the modern treatment and prognosis of MBC, and identify several areas for further research.