Scientists invent an edible solution to fake alcohol
Plus: A crucial component of sending humans to live at the Lunar Gateway is completed.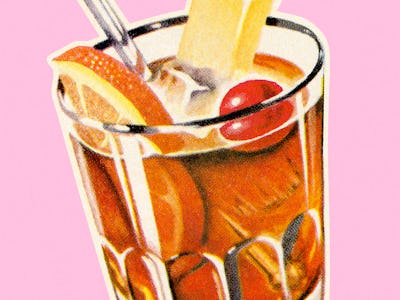 CSA-Printstock/DigitalVision Vectors/Getty Images
Every dive-bar denizen knows: If you order a whiskey and don't specify your brand, the bartender will give you the "well" — the house's choice. Fundamentally, this is a moment of trust: You trust the bartender to pour you a drink using a whiskey you will likely never know the name of or much else about it. But even if you go for a top-shelf liquor, you might not be drinking the whiskey you ordered.
Like handbags and watches, counterfeit whiskey is more common than drink connoisseurs might like to acknowledge. Problem is, how do you know when whiskey is the real deal or not living up to its label? A new, edible invention may be able to help.
HORIZONS explores the innovations of today that will shape the world of tomorrow. This is an adapted version of the June 6 edition. Forecast the future by signing up for free.
What's new — In a study published in May in the journal ACS Central Science, a team of researchers based in the United States and South Korea developed a smart, silk-based tag that drinkers can use to scan and authenticate their whiskey with their smartphones. The tag could also be used to essentially barcode other alcohol-containing liquid products, like medicine, other liquors and spirits, and more.
"Alcohol spirits are vulnerable to counterfeiting. There are a lot of fake whiskeys being sold," says Jungwoo Leem, a postdoctoral research associate at Purdue University and co-author on the new study.
Leem and his colleagues uses silk spun from silkworms genetically engineered to fluoresce under the right conditions. The silk was made into little white tags printed with a QR code that can be read by a smartphone but that isn't visible to you or me. They then tested the silk tags' ability to withstand being in 80 percent alcohol volume whiskey (40 proof) and whether it could be digested if swallowed by a drinker — also, importantly if you enjoy whiskey, they tested whether it had an effect on the taste of the whiskey.
Why it matters — The idea is a tag in a bottle could help the buyer be aware, just in the same way a certificate helps you authenticate a Birkin bag. But more broadly, this tag could have myriad applications in liquid solutions that contain alcohol — like medicines.
"Some liquid medicines contain alcohol. We wanted to test this first in whiskey because of whiskey's higher alcohol content," says Young Kim in a statement. Kim is associate head for research and an associate professor in Purdue's Weldon School of Biomedical Engineering and co-author of the study.
"Researchers apply alcohol to silk proteins to make them more durable. Because they tolerate alcohol, the shape of the tag can be maintained for a long time."
"Counterfeit items, such as medicines and alcohol, are big issues around the world," says Kim.
"If you have this technology on or in your medicines, you can use your smartphone to authenticate. We want to empower patients to be aware of this issue. We want to work with pharmaceutical companies and alcohol producers to help them address this issue," he adds.
Read the study to find out more.
On the horizon...
SpaceX has received an expanded contract for five future launches for NASA as part of the agency's Commercial Crew program, reports Teslarati, citing a tweet from news director at NASASpaceflight.com. The Commercial Crew program is designed to partner the U.S. space agency with private companies to move people and goods to space (in this case, astronauts to the International Space Station).
SpaceX was already on board for three launches with NASA to send crews to the ISS up until 2030, when the ISS is supposed to retire. The new addition brings the total slate for SpaceX to eight astronaut crew launches during that timeframe.
Part of the reason why, NASA explains in a filing on the contracts, is to do with the lags in Boeing's developing Starliner CTS reusable spacecraft module, which would enable the company to compete directly with SpaceX's fully-operational and well-tested Dragon capsule.
Earlier this year, Boeing tested a version of the Starliner CTS-100, but the company's delayed timeline means Boeing isn't yet in a position to ferry astronauts for NASA. In the filing, NASA notes it hopes it will introduce "redundancy" by awarding extra contracts to SpaceX, suggesting Boeing could still pick up crewed flights for the space agency later in the decade.
See it to believe it
You are looking at a lynchpin piece of the structure that will one day help build the Lunar Gateway, a crewed outpost designed to orbit the Moon. This is the fourth European Service Module structure.
"Much like the load-bearing frame of a car, this structure forms the basis for all further assembly of the spacecraft, including 11 [kilometers] of wiring, 33 engines, four tanks to hold over 8000 [liters] of fuel, water and air for astronauts and the seven-[meter] 'x-wing' solar arrays that provide enough electricity to power two households," the European Space Agency explains on its website.
T-minus the internet…
5. Think you had Covid-19 but didn't test positive? The tests might not be the problem. Writing in the New York Times, Melinda Wenner-Moyer explains there may be an immune reason.
4. It's like a teaser trailer for the James Webb Space Telescope: A team of researchers working with the Hubble Telescope recently announced it had completed the widest near-infrared sky survey ever with the telescope.
3. Cruise's robotaxis can now take you for a ride in San Francisco. Axios reports on the new autonomous cabs, which are funded in part by General Motors.
2. SpaceX and Tesla CEO Elon Musk suggested he may back out of the deal to acquire Twitter, according to the AP. The move comes in the wake of Musk alleging Twitter was not giving his team information they needed to close the deal, although Twitter says it is cooperating on that front.
1. Apple is going to help you take your meds. The Verge reports the iPhone maker has updated the Health app to enable users to track their medication use, which may help users remember to take drugs that require a specific schedule.
Beyond the horizon…
From the 12th to the 16th June, astronomers, astrophysicists, and engineers will gather online and in-person in Pasadena, California, for the 240th meeting of the Americal Astronomical Society. If you can't tune in (you have to pay to register), track the hashtag #AAS240 on Twitter to keep up with latest developments from the meeting. We'll be reporting on it, too.
This has been HORIZONS, a newsletter that explores the innovations of today shaping the world of tomorrow.
Do you think it can be improved? Have a story idea? Send your tips and all other musings to horizons@inverse.com