45 cheap products that save you from having to buy expensive stuff
Geniously affordable solutions to pricey problems.
by Christina X. Wood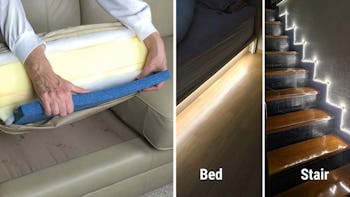 We may receive a portion of sales if you purchase a product through a link in this article.
I would love to be able to run out and buy a new car, remodel my kitchen, and pick up a delicious cold brew coffee whenever the mood strikes. I'm on a budget, though — and honestly, even if I could do those things, I think I'm too much of a penny pincher to spend with reckless abandon. I enjoy finding a better, cheaper, or smarter way of getting the yummy coffee or gorgeous counters I crave almost as much as having those things. I know I'm not the only one playing this game because some of my best sources — when I'm researching a new life hack — dwell in the reviews on Amazon. That is a crowd that loves cheap products that save you from buying expensive stuff.
Because you know what? There's always a product that was created by people who spend more on thinking up clever solutions and engineering them than they do on marketing. And those are the things I'm talking about. They're smart and cheap. For example, I have been looking for a lighted mirror that isn't extremely expensive, but I discovered it's much easier and cheaper to light the mirror I already have. I was also considering hiring a plumber to fix the drain that's always clogging — but then, I found discovered a super cheap hack that'll prevent this. But the hack that's likely to save the most money is the one that turns stopping for coffee into something I can do from my own fridge.
I found more cheap products that save you from having to buy expensive stuff, too. So get your credit card ready because you are going to want some of these.
1. This knife sharpener so you don't have to buy new ones
This knife sharpener might look medieval, but it gets the job done fast when it comes to putting an edge back on knives you thought were ready to trash. Just drag the blade through the tungsten carbide arms — which have a spring action that automatically adjusts to the shape of the blade — a few times and get back to cooking.
2. This splatter screen to keep frying grease off your counter
You'll actually enjoy frying food thanks to the helpfulness of this splatter screen. Whether you're frying something in hot oil or cooking up some bacon or sausage, all of that grease spray will stay in the pan. That means no more countertops to scrub, let alone dealing with splatter and grease burns.
3. A digital thermometer for perfectly cooked meat every time
Using a digital meat thermometer will help you achieve the perfect cooking temperature on any piece of meat. The light-up display screen is incredibly easy to read and can switch between Celcius and Fahrenheit. There is also a small chart on the handle to show you the proper and safe cooking temps for different kinds of meat for your convenience.
4. These lights that turn any mirror into a vanity — no expensive lighting additions needed
When you get ready in the morning or to go out at night, do you wonder how you'll look in real light? Well, this set of LEDs fixes the mirror you use for primping without changing the lighting of the whole room. Stick them to the mirror and plug them in, and the 14 LED bulbs will throw a realistic shine that matches daylight right on your face.
5. An indoor vegetable growing kit to save a ton of money on groceries
Fresh non-GMO produce is super expensive — but growing your own veggies at home can seem intimidating. Take the work, fear, and need for lots of outdoor space out of the equation with this indoor garden vegetable seed starter pack. For less than $30, you can grow your own radishes, beets, cucumbers, and red lettuce — right inside of your own kitchen or on your balcony. The pack comes with everything you need including soil disks, seeds, shears, and a planting guide.
6. This travel-sized surge protector with multiple charging options
You'll be hard-pressed to find a travel-sized surge protector more versatile than this one. It has three grounded inputs, three USB charging ports, and one USB-C port. It also has smart voltage technology for high-speed charging so your devices are ready to go. Plus, it weighs less than 1 pound and is very compact, which is great for taking it anywhere.
7. A reusable lint remover that doesn't require buying tons of sticky sheets
When a lint remover racks up more than 100,000 reviews and a cult following, it's time to sit up and take notice. This reusable pick doesn't require batteries or a single sheet of sticky tape, but rather lifts up fur, hair, lint, and debris and traps it inside of a compartment that is a cinch to empty and clean.
8. These silicone drain covers to prevent plumber calls
Sometimes, the simplest solution is the best. This five-pack of drain covers catch everything from hair to kitchen scraps that would otherwise go down the drain and create a clog. They are simple, elegant, and effective. Just put them over the drain and clean them off occasionally. They are big enough for most drains and are loved by over 9,000 people.
9. This set of furniture stoppers to protect floors
Having to replace your hardwood floors or tile is an expense that you don't want to incur if at all possible. One of the best ways to keep your floors looking great is by investing in this $11 pack of bed and furniture stoppers that keep heavy pieces from shifting and scratching up expensive flooring. The stoppers fit nearly all wheels and come in packs of four (shown here) or six.
10. A pour-over brewer to save on trips to the coffee shop
Brewing a bold cup of coffee is so simple in this pour-over coffee maker, which includes a heat-resistant glass carafe and stainless steel mesh filter. The 10.5-ounce capacity makes enough for one to two cups of coffee, and there's an insulated collar on the carafe for easy pouring when your cup of java is ready.
11. This simple plumber's tool that's so cheap
You might think you have to spend a lot on plumbing tools to stock your home fix-it rig but that's actually not true. Many plumbing problems can be fixed with this simple strip of barbed plastic. Feed it into the drain, pull it out, and it will bring with it — because of those reversed barbs — the hair and other debris that's stopping the water.
12. These no-tie laces that'll turn your old shoes into slip-ons
You can stop shopping for new slip-on shoes because whatever pair of shoes you do have can be transformed immediately. It takes a few minutes to install these stretchy silicone laces, but you only have to do it once and your shoes will look as if you executed a fancy reverse lacing job. However, they won't need to be tied ever again and they'll fit more comfortably because the laces have some give to them.
13. These reversible cutting boards that are a home chef's dream
These reversible cutting boards are an awesome kitchen tool for any cooking lover. You get three different-sized cutting boards in this set, each with a nonslip handle to easily maneuver it. They are made from a thick, durable plastic that can withstand chopping and cutting, and are also dishwasher safe for easy clean up.
14. This cleaning gel that helps you detail the interior of your car like a pro
Open the package, play with this squishy gel for a minute, then push it into the dusty crevices in your car, keyboard, or anywhere that's hard to clean. And then, pull it out again. The dust and dirt will come with it, and you can keep right on going until the gel turns dark. It's a quick way to detail a car and is gentle enough to clean plants.
15. An electric skillet that can roast, fry, steam & more
Cook meals without turning on the stove thanks to this multifunctional electric skillet. It features a 1,200-watt heating system and a scratch-resistant ceramic nonstick coating that cooks food quickly and makes cleanup a breeze. The skillet can also be fully immersed in water while washing it, and the tempered glass lid is dishwasher safe.
16. A set of glass canisters that keeps dry goods fresher — & saves trips to the grocery store
Keep your spices, pasta, and other pantry items stocked by buying in bulk and refilling this set of glass canisters and spice jars. Every set comes with four canisters (27, 42.2, 55.7, and 73 ounces), four spice jars (3.4 ounces each), and airtight lids. And according to reviewers, the spice jar lids rotate to open and close, so you can easily season food while you cook.
17. This shoe & boot dryer for post-rain & snow
This boot dryer is key to drying out waterlogged footwear, whether you use it for snow boots, ski boots, or your everyday sneakers. The electric dryer operates silently and can also be used with wet gloves and hats. Pro tip: Use this to warm up your shoes before you put them on and head out for the day, too.
18. These motion-activated strip lights that upgrade your closet — & save on costly lighting additions
This LED light is the easiest solution ever for that dark closet or cupboard you can't see into. You stick the light where you want it, and it can detect movement within a 2-meter radius. It's battery-operated, so it can go anywhere.
19. This mini brush that removes pet hair without money & time spent on deep cleaning
Keep your pet's hair off your furniture and out of your car with this genius mini pet hair remover. It's quick and easy to use and requires no batteries or electricity to operate, so you never need to worry about recharging it like you would with a handheld vacuum. It has thousands of fans on Amazon who love how effective this tool is.
20. A 10-piece set of stainless steel kitchen utensils
If you fancy yourself a home chef, you are going to love the cooking tools you get in this 10-piece utensil set. Each utensil is made from stainless steel, so they are incredibly durable and well-made. They come with a stainless steel container for convenient storage when you're not using them to make tasty dishes.
21. This dish soap dispenser that makes meal cleanup easy — & only dispenses what you need
Speed up the amount of time it takes clean up dinner with this handy dish soap dispenser set. The sponge holder features a reservoir for dish-washing detergent — fill it up, then press down on the top tray to dispense soap directly onto your sponge. The set also includes a dispenser for hand soap and a drip tray to keep your counter clean.
22. This dish drying mat that keeps your counter dry & protected
You can place this dish drying mat under your regular dish rack, but you can also set it on the stove to get extra drying space in the kitchen. The silicone mat features high sides to keep your counter dry, while the ridges help promote air circulation around plates and glasses. Heat-resistant to 480 degrees Fahrenheit, it also doubles as a trivet.
23. A beard soap that's conditioning & exfoliating
If your beard is making your face dry and itchy, you'll want to pick up a bar of this exfoliating and moisturizing beard soap. Walnut granules work to scrub off dry skin while the shea butter and coconut oil deeply condition. A refreshing citrus scent leaves facial hair smelling great all day long.
24. The reusable sponge cloths that'll replace paper towels
These hybrid sponge cloths are super absorbent (like paper towels) but perform more like dishcloths. They're great for everything from sopping up messes to washing dishes to cleaning surfaces and have a following that loves them and gives them almost 17,500 five-star reviews.
25. This wireless doorbell that's easy to install — & very affordable
If you've been putting off getting a new doorbell because of how pricey it can be, this wireless model from SadoTech is exactly what you need. The kit comes with everything you need for easy installation without needing to wire anything or call in a professional. Available in several colors, the doorbell has four volume levels and a selection of 50 chimes so you can find a setting and sound that work for you. And the wireless range of up to 1,000 feet gives you flexibility in terms of where you can place the speaker.
26. This handheld salad chopper that saves on pricey store-bought salads
Made of durable stainless steel that's dishwasher safe, this mezzaluna salad chopper will seriously speed up food prep. Don't be fooled by the name — beyond salad greens, this handheld tool can also help you dice up other veggies, herbs, nuts, and more. Just add your items to a large bowl and get chopping. This tool also comes with protective blade covers for safe storage.
27. These nonslip furniture grippers that'll help protect your floors
If you have tables or chairs that tend to move around — damaging your floors in the process — nip that in the bud with these nonslip furniture grippers. Cut the pre-scored pads to get the correct fit you need for whatever furniture you'll be using it on. It's also safe to use on a wide range of flooring surfaces that may be in your house.
28. This reusable notebook that stores in the cloud
Buy this one clever notebook and you will never have to buy another. You can store your hand-written notes in the cloud, so there's no need to invest in a tablet or expensive touch-screen notebook to capture your jotted thoughts. Just use the RocketBook app to send your notes to Google, Dropbox, Evernote, box, OneNote, Slack, iCloud, or whatever you use. Then, wipe the pages clean with the included cloth.
29. These motion-activated night lights that won't run up your bill
Plug one of these night lights into the outlet in the bathroom and one at that dark place on the hallway or stairs, and it will automatically light your way when you approach and turn off after a minute. The lighting is soft and warm so it won't startle you awake when you need to go in the night. Just wave your arms if you want more than a minute of light, and it will come back on.
30. This electric toothbrush with a timer that's just $25
An electric toothbrush doesn't have to cost upwards of $50 to get the job done, and this quip electric toothbrush for adults is proof. The ADA-accepted toothbrush uses gentle sonic vibrations to help tackle plaque while promoting healthy gums. It features a two-minute timer with 30-second intervals to help you stay on track, and the included cover helps preserve the bristles, even when you're taking it on the go.
31. This expensive-looking slim bifold with a money clip to keep essentials handy
With its slim profile and sophisticated, faux leather design, this bifold wallet is a rare find for the price point. It comes in 14 different colorways and boasts tens of thousands of fans on Amazon, with many reviewers praising the high quality and ease of it. "I like this wallet so much I've taken to recommending it to strangers, wrote one shopper. "It's thin, I like the texture, I like the color (inside different than outside), it fits plenty of cards, and I love the fact that my go-to card is easy to access! One of those Amazon purchases that you're sorry you didn't make earlier!"
32. A set of fridge liners that saves on fridge cleaning
How many times a day do you open the fridge? Does it look festive, organized, and clean in there when you do? These colorful mats will spiff it right up. They'll also give your produce a soft, absorbent place to lie around and make cleaning the fridge so much easier because they wipe or wash clean.
33. A pair of tactical flashlights that are surprisingly affordable
Be prepared for a power outage, camping trip, or emergency situation with this two-pack of tactical flashlights. They feature bright, long-lasting LED lights, are water-resistant, and can stand up to being dropped or even briefly submerged in water. A true fan-favorite on Amazon, they boast an overall rating of 4.7 stars from over 45,000 shoppers.
34. This 3-piece cooking set perfect for outdoor adventures
This handy outdoor cooking set is great for preparing an array of foods while you're camping or on the road. It comes with a stainless steel cooking kettle and two insulated tumblers. This is perfect for cooking up a simple hot meal, boiling water, preparing soup, or making coffee or tea. And you'll like that the handle is able to be folded to save space when you're not using it.
35. This small, countertop sharpener that even works on serrated knives
Always have your kitchen knives at the ready thanks to this nifty knife sharpener. It's designed with a suction cup bottom that firmly secures the sharpener to your countertop. The blade is made from tungsten carbide that is capable of extending the lifespan of just about any knife on the market. You can even sharpen serrated knives with this device.
36. These color-coded knives complete with cutting board
If you have been looking for a new set of knives, this 12-piece, colorful knife set is worth considering. It comes with chef's, bread, slicing, pairing, and utility knives so you can take on any recipe on your mind. The handles have an ergonomic design with padded grips so you can cut and chop comfortably.
37. A potato masher that works on meat, too
This kitchen utensil does a great job of mashing potatoes with much less effort than other tools in your kitchen, but people also love it for mashing up ground meat quickly and easily. It has five blades made from heat-resistant nylon and an ergonomic handle so you can really grip it and conquer the mashing and smashing.
38. A scalp massager that works on wet & dry hair
Do you love the part of the haircut where you get a little scalp massage? Well, you don't have to wait for a haircut to get it. Just slide this scalp massager — it comes in six colors — over your hand and shampoo with it. It feels blissful, exfoliates, and helps stimulate hair growth.
39. A hammock that folds up so you can take it just about anywhere
This portable hammock is perfect for the outdoor lover in your life. Included with it are two carabiners and two 9-foot-long straps that make it super easy to set up your hammock. It is available in two sizes, as well, in case you want one for solo use or to share with your partner. When it's not being used, it rolls up to become super compact to help you save space.
40. These air deflectors that make your home's temp more comfortable
Is there an air conditioning vent inconveniently placed over your sofa, blasting you with air while you're watching TV? These heat and air deflectors are here to save the day. Made from sturdy plastic, these deflectors grip onto vents magnetically to redirect air flow for better cooling and heating in your home. They also extend and retract to accommodate different vent sizes. "We still have a cool home, the air is not blowing right on us, and these were super easy to install," one shopper wrote.
41. A kit that makes your car's headlights shine like new again
If you're noticing that your car's headlights are beginning to look dingy, this headlight restoration kit is designed to bring them back to their former, brightly lit glory. The kit contains three steps — an activator that softens plastic for sanding, sandpaper and a polishing compound, and lastly, a sealant that shields lights from sun damage. With over 14,700 five-star ratings, this kit seems to do the trick. "Even better I've gained over double the visibility at night, which was a huge safety concern before!" a reviewer wrote.
42. A beard bib that catches all the trimmings & prevents a clogged drain
If you shave and trim at the bathroom sink, you're probably familiar with the drain clogs that can result when that excess hair gets stuck. You can prevent future plumber calls (or harsh drain clog remval sessions) by using this clever beard bib. It fastens around your neck and has two suction cups at the end — secure them to the mirror to create a hammock that catches all the trimmings.
43. This Turkish rug that won't shed & looks luxurious
For a rug that's striking, covers a lot of floor space, and is affordable, this Turkish area rug will tie the room together. Woven from soft polypropylene fibers (a synthetic material that creates a soft, plush texture), the rug is made to grip firmly to the floor to prevent sliding. Meanwhile, a medium pile means that it shouldn't obstruct doorways.
44. This pen that is actually six handy tools
This multifunction pen will empty your pockets so you can retire that pocket protector. It is a ballpoint pen, stylus, flat-head screwdriver, Phillips screwdriver, ruler, and level all in one tiny pen. The stylus is in the eraser position and the screwdrivers are hiding under there. Throw this in your bag or pocket and you will be ready for everything from signing a contract to fixing things that break to hanging pictures.
45. This jewelry cleaning kit with a polishing cloth
Keep your favorite jewelry always looking its absolute best with the help of this jewelry cleaning kit. It is safe to use on a wide range of metals and precious stones, such as gold, silver, and diamonds. This kit comes with a nontoxic cleaning solution, dip tray, scrubbing brush, and polishing cloth.
RELATED STORIES: