The 5 best e-ink tablets
Comfortable, glare-free reading & note-taking.
by Andrea Hannah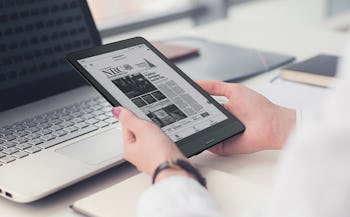 Amazon
We may receive a portion of sales if you purchase a product through a link in this article.
Whether you're making the switch from pen and paper to a digital note-taking system or you're simply looking for a good e-reader to finish your reading list, the best e-ink tablets have easy-to-read screens and offer a wide range of functionality, for everything from reading to note-taking to drawing. But the way you want to use your tablet will largely decide which one is right for you. And as with any tablet, battery life and storage size are also considerations to keep in mind as you shop.
What to consider when choosing an e-ink tablet
Since e-ink is taking the tablet world by storm, you'll have a few great options when making this investment. If you're looking for a reading tablet, you'd be hard-pressed to find a better e-ink option than one of Kindle's offerings, namely the Kindle Paperwhite, one of Amazon's newest designs. The Paperwhite makes it easy to download e-books from both the Kindle store and the library and is even waterproof for reading outside.
However, if you're looking for more functionality, you'll also find e-ink tablets that let you take notes. For pen-and-paper loyalists who are looking to make things a little more digital, an e-ink tablet with a great stylus and the ability to digitize handwritten notes is definitely the way to go. Some of them even offer the ability to export your notes and files to the cloud for saving and sharing.
The standout e-ink tablets below are each a great purchase in their own right, so keep scrolling for an in-depth comparison.
1. The overall best e-ink tablet for readers
Display size: 6.8-inch screen
Weight: 7.23 oz.
Storage: 16 GB (8 GB also available)
Pros: Waterproof design, 10-week long battery life, multiple storage size options, comes in three colors
Cons: Limited functionality
If you're just looking to read, the Kindle Paperwhite is definitely the best e-ink tablet you can find. Not only does the newest version come with a waterproof design that makes it one of the best tablets for reading outdoors, but it also features easy-to-read e-ink font that you can adjust to the size you want. It has adjustable brightness with 17 LED lights, is Wi-Fi-enabled so you can connect to Amazon's wide e-book store, and comes with free cloud storage for all Amazon content. It even syncs to the Libby and OverDrive apps on your phone so you can download library books to your tablet. You can highlight and leave notes on passages as you read, and it can last up to 10 weeks on a single charge depending on use. You can choose between two sizes (an 8-gigabyte and a generous 16-gigabyte model) and the option to eliminate lock-screen ads. At the end of the day, the number of features you get for the price can't be beat.
Positive Amazon review: "This little device is absolutely wonderful. I never thought it would feel so different compared to reading on my tablet, but the difference is night and day. My eyes no longer feel strained, and the size is comfortable enough to fit in my pocket on the go, or hold with one hand. The 300PPI resolution is so crisp, making text look even sharper than printed books. [...] Been reading more in the past month than I have couple years before this. It's an amazing feeling."
2. This e-ink tablet you can take notes and draw on
Display size: 10.3-inch screen
Weight: 13.5 oz.
Storage: 32 GB
Pros: Ability to write and draw on e-books, PDFs, and blank notebook pages, can import and export files, waterproof design
Cons: Expensive
The Kobo Elipsa eReader not only offers a huge library of e-books and audiobooks to choose from, but it also allows you to make notes and doodle on e-books, PDFs, and even blank notebook pages to create your own masterpiece. You can also import files, save notes, and export written notebooks to Dropbox. Additionally, you can save and read online articles at your leisure with the included Pocket app and explore library e-books to borrow with the built-in OverDrive app. The large, 10.3-inch screen has adjustable brightness and dark mode that features white writing on a black background, and the tablet comes with a stylus and a sleep cover that doubles as a kickstand. Plus, this tablet is waterproof, comes with 32 gigabytes of storage, and offers weeks of battery life on a single charge.
Positive Amazon review: "I have created three notebooks with zero issues. [...] I absolutely love the Pocket app. It has great article recommendations, and I like being able to save long form articles I come across so I can digest them on a larger screen. The ability to edit PDFs is huge! I love that I can just drop docs in my dropbox and pretty much instantly edit them. I really like that it has bluetooth, so I can stream my audiobooks to my car or headphones."
3. An e-reader with page-turn buttons and a comfy one-handed design
Display size: 7-inch screen
Weight: 6.6 oz.
Storage: 32 GB (8 GB also available)
Pros: Adjustable display warmth, page-turn buttons, lightweight aluminum construction, comes in two colors
Cons: Expensive
The Kindle Oasis is the slightly upgraded, sleeker, and more ergonomic sister to the Kindle Paperwhite, and fans of this pick agree that the little differences pack a huge punch. One reviewer wrote, "The warmth slider nearly justifies the price of the Oasis all on its own." It features a slightly larger screen, coming in at a full 7 inches, has an adjustable brightness with 25 LED lights, and just as the fan above mentioned, a sliding warmth scale so you can set it to your exact preference. One of the most notable differences between the Paperwhite and the Oasis is the Oasis' upgraded design which features page-turn buttons that make it easy to hold and read with one hand. Aluminum construction gives it added durability without adding weight, and the waterproof design gives you the confidence to take it anywhere. You can continue to highlight your favorite passages as you read, and listen to audiobooks via Bluetooth.
The Oasis does have a slightly shorter battery life compared to the Paperwhite — lasting about six weeks, depending on use — and it's available in two sizes: an 8-gigabyte and a 32-gigabyte model.
Positive Amazon review: "One of the features I can't live without about the Kindle Oasis is that it has physical buttons for turning the page rather than relying solely on a touchscreen. This makes it easy to read for long periods without straining my fingers or hand. It also provides instant clicking feedback that encourages me to read more. The buttons are well-placed and have a nice, tactile feel to them."
4. A more affordable e-reader with page-turn buttons
Display size: 7-inch screen
Weight: 7.6 oz., according to the brand website
Storage: 32 GB
Pros: Page-turn buttons, landscape mode
Cons: Can only play Kobo audiobooks
If you love the idea of page-turn buttons on your e-ink tablet but don't want to spend a lot, consider this Kobo e-reader that comes at a more wallet-friendly price. Complete with a 7-inch HD touchscreen, waterproof construction, landscape mode, and adjustable brightness and color temperature, this tablet gives the Oasis a run for its money. While it doesn't offer free cloud storage as Kindles do, it can store up to 24,000 e-books and up to 150 audiobooks and has a dark mode for reading at night. A wide selection of books is available on the Kobo app for download, and with an overall 4.4-star rating from over 2,000 Amazon reviewers, it's worth taking a look at.
Positive Amazon review: "I bought this for myself because I've never had an ereader and books are getting more expensive. I also live with too many people in a small space to have books everywhere! This allows me to read whenever I want and is easier on my eyes than using my phone or computer."
5. The classic e-reader
Display size: 6-inch screen
Weight: 5.56 oz.
Storage: 16 GB
Pros: Battery life of up to six weeks, affordable price, comes in two colors
Cons: Limited functionality, not waterproof
Unlike pricier models, the original Kindle lacks waterproof capabilities, but for readers looking for a basic e-ink e-reader, this has everything you need. The battery can last up to six weeks depending on use, it has 16 gigabytes of storage, and you have the ability to download books from Kindle's e-book store as well as your local library (provided they use OverDrive or Libby). Newly upgraded to have a built-in front light you can adjust to your reading preferences, this is a super affordable option that has plenty of features that make it worth your time. While it lacks writing functionality and has a slightly lower resolution when compared to the Paperwhite, the Kindle is a great investment for readers who want the paper-like feel of an e-ink device, without spending a lot.
Positive Amazon review: "This Kindle is so compact and light, it really does fit nicely in your pocket even with a case on it. The Kindle is literally the size of a paperback book that can hold thousands of books with its generous storage. I have 600 books on it and I have not even put a dent in my storage space. The user interface is snappy and it is as fast as the new Paperwhite and as the most current Oasis. [...] this is THE Kindle to buy and for its price point you are getting a lot of great features in a compact travel friendly device that keeps going and going."
This article was originally published on