3 Ways to Read Better and Finish Your Summer Reading List
Learn the Secrets of Elon Musk, Bill Gates, & More to Read Almost a Full Book Each Day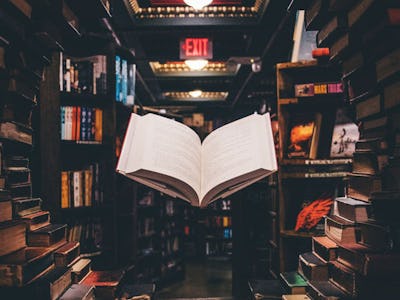 StackCommerce
In school, they said books are the gateway to wisdom, and they're right on the money. Learning new skills, languages, and knowledge is an essential part of being human, and reading is the best way to get there. Unfortunately, if you've developed bad reading habits then that gateway is closed to you.
Every year your bookshelf gets more crowded with books you crave to finish but just haven't. Whether it's due to lack of time or bad reading habits, there is a solution. Read faster and understand easier. Sounds simple, but it's tough to do through sheer force of will. So here are three tools that will seriously increase your reading speed, comprehension and focus so that you can finally get around to those books patiently waiting on your shelf.
Become A Speed Reading Machine: Read 300 Books This Year
Reading 300 books in a lifetime is an accomplishment, let alone in a single year. But this speed reading course explains that the standard reading techniques you learned in school actually stop you from reading more than 20 books per year. By rebuilding your reading strategy and learning simple tricks you can instantly double your reading speed and finish the books waiting on your shelf.
Once you master speed reading and getting through a book isn't a painful slog, you'll find yourself reading a lot more. This speed reading course is usually $195, but right now you can get it for 87% off at just $25.
ReadMe Premium: Lifetime Subscription
It can be difficult to fully absorb a book when you're using the standard way of reading where you often lose track of your place and re-read pages. ReadMe is an e-reading app that changes your entire reading workflow by using innovative tools that boost your reading speed, comprehension, and focus. Without any extra work or training on your part, you can instantly begin to read faster and more efficiently using only the included tools.
ReadMe is also a fully-functioning e-reader app that syncs your books across multiple devices and allows e-book creation and off-line access. A ReadMe Premium Lifetime Subscription is usually $99, but at the moment it's on sale for 50% off, and you can get it for $49.
Become A SuperLearner 2: Speed Reading & Memory
Ever feel like even with all of the effort you put into learning new things you just keep coming up short? You either can't remember key concepts or find yourself struggling to understand. Here's a course that's specifically designed to help you learn better, by teaching you hacks and techniques so you can acquire new skills faster and more efficiently. You'll learn advanced memory techniques as well as the scientific basis behind smarter learning.
The next time you read a book you should be able to remember it, the next time you practice a new language you should see yourself progressing instead of back-tracking, and when you learn a new concept you should understand it the first time you hear it. This course will teach you how to learn.
The Become A SuperLearner 2: Speed Reading & Memory course normally costs $199.99, but it's available on the Inverse Shop for a huge 94% discount for only $10.