The best 3rd party Apple Watch bands on Amazon
We only recommend products we love and that we think you will, too. We may receive a portion of sales from products purchased from this article, which was written by our Commerce team.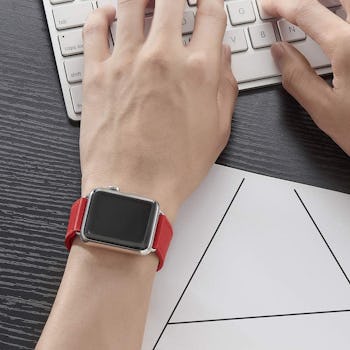 Amazon
Whether you use your Apple Watch to track fitness and health metrics, keep tabs on messages, or play games, the best 3rd party Apple watch bands are a great way to mix up your style on the cheap and they come in a variety of designs. When you're shopping around, there are a couple of key things to consider.
First, think about the material. Bands come in a number of options including silicone, leather, nylon, and stainless steel, each of which fits different styles and occasions. A silicone band, for example, offers a more athletic look, and it's fully waterproof so you can work out with it. Nylon is similarly resilient and often water-resistant, while stainless steel is incredibly durable and offers a more polished look (but it's typically not great with water). Leather bands are a classic option that's great for everyday wear but can be dressed up too.
After considering material, it's also important to look at compatibility. Don't assume that because a band says "Apple Watch compatible," it will automatically fit your specific watch — you need to check the size first. Apple Watch cases range in size from 38 to 44 millimeters so pick a band that fits your particular wearable.
Given these considerations, check out the best 3rd party Apple watch bands below. All of them are unisex, so you can choose the look that suits your style the best.
1. This sleek stainless steel band with a magnetic closure
Sizes: 38/40/41mm, 42/44/45mm
The lowdown: Constructed with stainless steel, this Apple-compatible watch band offers a great combination of style and sophistication. The popular watch band, which boasts 28,000-plus reviews on Amazon, is both sleek-looking and functional, with a secure clasp that opens with a quick-release spring bar. It comes in a variety of different finishes including black, blue, red, rose gold, and silver.
One reviewer wrote: "It is not only comfortable but also looks very elegant and nice. It came well packaged, and with all the required tools to easily resize it to your wrist. The clasp was also large enough to make it easy to attach and remove from the watch, even for one of the smaller sizes, due to my small wrists."
2. A classic leather band that comes in more than 20 colors
Sizes: 38/40/41mm, 42/44/45mm
The lowdown: Made with genuine leather, this Power Primacy watch band is stylish and durable, according to reviewers. The tang buckle closure system is simple and practical, and it has a grippy back that prevents it from sliding down your wrist. On top of that, it has a huge selection of color combinations including beige blue/silver, light grey/rose gold, snow leopard/silver, purple/gold.
One reviewer wrote: "This band looks very expensive. It's a nice soft leather band; light-weight and flexible. It has a really nice finished clasp and comes with a watch face protector. I will be purchasing several more in different colors."
3. This thin silicone band that comes in 15 colors
Sizes: 38/40/41mm, 42/44/45mm
The lowdown: Similar to Apple's own line of silicone watch bands, this sturdy silicone band comes in a variety of colors and features a tang closure that allows for a customizable fit. It's flexible and dirt-resistant, making it great for workouts.
One reviewer wrote: "I purchased this watch band only because I needed one that would be easy to clean because I play a lot of sports. I thought it would be stiff and uncomfortable- I was wrong. It is lightweight and the texture is like butter. It is very flexible and easy to wear."
4. A sophisticated leather strap in shades of brown or black
Sizes: 42/44/45mm
The lowdown: Another sleek leather option, this sophisticated watch band comes in various shades of brown, including cognac, walnut (pictured), and coffee, as well as black and blue. It's lightweight and a great value for the price, according to reviewers. Not only that, but it has a tang closure that allows for a comfortable fit.
One reviewer wrote: "I could not believe the price of this band, but decided to give it a try. After a month of wear its going strong. I still swap out to the apple band if I'm expecting to get wet but very pleased with purchase."
5. A resilient woven nylon band that will fit bigger wrists
Sizes: 38/40mm (S/M/L), 38/40mm (L-XXL), 42/44mm (S/M/L), 42/44mm (L-XXL)
The lowdown: This rugged-looking Carterjett watch band comes in two different band lengths, accommodating wrists from 5.5 to 10.5 inches in size. Made with tough woven nylon that's extra durable, it holds up well over time, and fans noted that it's comfortable, too. The water-resistant band features a tang closure and comes in a wide variety of colors including olive green, black, red, cream, and gray.
One reviewer wrote: "I love this strap. I have a large wrist and every time I ordered a strap, even when they say it will fit a big wrist, it didn't. I ordered this one it fits nice and I have about 3 inches to spare when I am wearing it."
6. This versatile 14-pack of silicone bands that's just $27
Sizes: 38/40/41mm (S/M or M/L), 42/44/45mm (S/M or M/L)
The lowdown: Constructed with soft yet sturdy silicone, these budget watch bands offer excellent durability and great variety at a fantastic price. You get 14 different colors for just $27, and reviewers note they're comfortable, too. The material is waterproof and flexible, making this another great option if you like to wear your watch during workouts.
One reviewer wrote: "I live wearing my Apple Watch but wearing the same color band day in and day out get so boring . So I ordered this huge colorful set of bands to fit my Apple Watch. So many colors I could change it daily for two weeks . Love the price and the quality looks great feels comfortable. The silicone is soft and strong easy to do with one hand. Easy also to adjust size. Great purchase."
7. A trio of patterned bands that are stylish and breathable
Sizes: 38/40/41mm, 42/44/45mm
The lowdown: If you're looking for a more colorful option, these unique Apple watch bands come in a wide variety of patterns and styles. Made from stretchy quick-drying nylon that's both comfortable and durable, they feature adjustable buckles so you can customize the fit to your wrist. They're easy to wash and some of the patterns include boho flowers, fashion rainbows, and leopard prints.
One reviewer wrote: "As a nurse, I wanted a stretchy band so I can push my watch up my arm and out of the way for doing certain things and washing my hands [...] I've been wearing the first one from this package for several months now and it is still working perfectly and looks great! I get compliments on it all the time. It's comfortable and I like the way you can adjust the sizing. Fit into my watch easily."
8. This 2-pack of transparent bands that feature protective bumper cases
Sizes: 38/40mm, 42/44mm
The lowdown: These transparent Apple watch bands, which are made from durable TPU plastic, feature bumper casings that help protect the watch on its sides. The raised-edge design prevents it from getting scratched or dented while the simple, versatile style allows them go with everything. They're fully waterproof and comfortable to wear, according to customers. Just note that the protective casings don't go over your screen.
One reviewer wrote: "I was a little worried about how comfortable these would be especially since I wear my Apple Watch for 12+ hours a day. Surprisingly these bands fit perfectly, and are SUPER easy to change out and clean! They're sleek and clean looking and I got so many compliments on them!"
This article was originally published on