4 Perfect Gifts for Apple Watch Users
Every Apple Fan Wants One Of These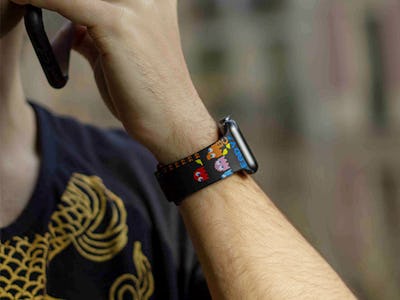 StackCommerce
Apple products make for great gifts – but sometimes, you can't afford the Apple price tag. If there's an Apple lover in your life who already has the latest devices, here are a few out of the box accessory ideas that they'll truly love.
1. MobyFox 38mm Apple Watch Band & Watch Face Code
MSRP: $49.99
Sale Price: $29.99
Discount: 40%
These Apple Watch bands were made as part of an exclusive collaboration between Bandai-Namco and Tim Lapetino, which is what makes them so nerdy chic. Made of high-quality silicone, these bands are sweat- and UV-resistant. Plus, if you get the PAC-MAN one, it comes with a code to unlock a special PAC-MAN watch face design.
2. Apple Watch Development For watchOS
MSRP: $199
Sale Price: $19
Discount: 90%
If you know a developer who loves their Apple Watch, they'll probably love this course in Apple Watch development. They can learn all about what makes an Apple Watch tick and how to create their own apps. Included are 8 lectures and 1.5 hours of instruction, so it's a nice introduction for someone who may not know much about app development.
MSRP: $29.95
Sale Price: $14.95
Discount: 50%
A lot of Apple Watch owners don't know that there are docks out there you can add onto your nightstand to store your watch. This neat dock locks to the surface of your Watch using air suction to make charging effortless. Plus, it's great for travel – that Watch is expensive, so you want to make sure you store it in a safe place when you're not wearing it.
4. Nomad Stand for Apple Watch (Silver)
MSRP: $49.95
Sale Price: $29.95
Discount: 40%
Another sleek dock, the Nomad's design is minimal enough that you can leave it out on your desk or nightstand without it getting in the way. There are so many great design details incorporated on the body of the stand, like the hidden channel that keeps a charging cable out of eyesight.
Like this deal? Check out Vault — you'll get four premium tools, including NordVPN and Dashlane, to supercharge your online security. Enter code VAULTONE to try it out for just $1!