Bicycling in 2025 Will Be Different in Two Big Ways
We're seeing a mix of technological and political development now that is shaping the future of cycling.
by Xavier Peich and CEO of SmartHalo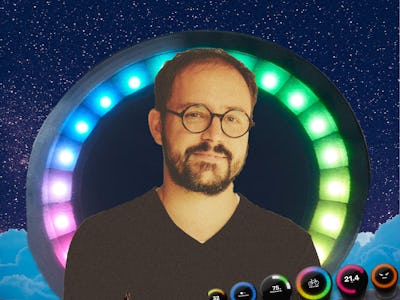 Natasha Chomko, aka POST-WOOK, for Inverse
Xavier Peich is a co-founder and CEO of SmartHalo, a Montreal-based startup that makes a bicycle computer and app. The second generation model, SmartHalo 2, just debuted on Kickstarter. The first-generation model is still available, and is sold in Apple stores in the US, Canada, and Europe. Below is an excerpt from our interview with Peich, when we asked for his prediction of bicycling in the middle of the next decade. The interview is part of our Future 50 series on 50 people who are poised to do good in the 2020s. —Inverse staff
Inverse: What does bicycling look like in the middle of the next decade?
Xavier Peich: When you look at Tesla, with what they're building with their displays, it looks awesome. But if you look at what is being done in cycling right now, it just looks terrible. You can't make cycling the future of urban transport if all the interfaces look like shit.
We need to make the user experience of riding a bicycle more appealing to cyclists. There are so many good things about the user experience with a car: You just walk up to it — beep-beep — and the alarm system deactivates. You get in, and the lights turn on, and the radio will turn on. If it's cold, the seats will warm up. So many of those things make the user experience really good in a car.
And then, you get stuck in traffic. Traffic has a pretty bad user experience. It's terrible. It pollutes. It's also expensive.
By 2025, most new bicycles will be electric. Some people will still have regular bikes. But by 2025, you'll have electric bike. A lot of people initially thought that would be cheating, but there are pedal-assist bicycles. You still need to pedal, so there is still that fitness element, and you can decide how much of an assist you want. Electric bikes allow people that otherwise wouldn't be able to bike to do so, because the range is much larger.
The other big trend happening right now is that municipalities and cities around the world are investing heavily in cycling infrastructure. It's huge — the amount of money being spent on this right now. And I think cities should go even faster. Cities likely won't remove the cycling paths after they've been installed, and they keep adding every year. And this is going to give confidence to more people to cycle.
We're seeing a mix of technological development — electrification, good dashboards — and political development in cities, which are leading the way. It's not going to come from the national government; it's going to come from cities and the people asking for better bicycling infrastructure.
I don't believe that mobility will be completely a service, though. There's a big discussion happening right now of whether transit should just be a service. Yes, you can take a cab or Uber, but most people will own cars, too. It will continue to be a mix of both, and while I prefer to have my own bike, sometimes I'll use the public ones, too.
Also read: SmartHalo CEO Xavier Peich Has Built the People's Bike Computer
Xavier Peich is CEO of SmartHalo and is a member of the Inverse Future 50, a group of 50 people who will shape the coming decade. The SmartHalo 2 is on Kickstarter now.
We are shining a spotlight on some of the millions of small businesses now challenged by Covid-19. This is part of an ongoing commitment our parent company, Bustle Digital Group, is making to support small businesses throughout the entire month of May. Tell us about your favorite small business on social media using #SmallBusinessSalutes.