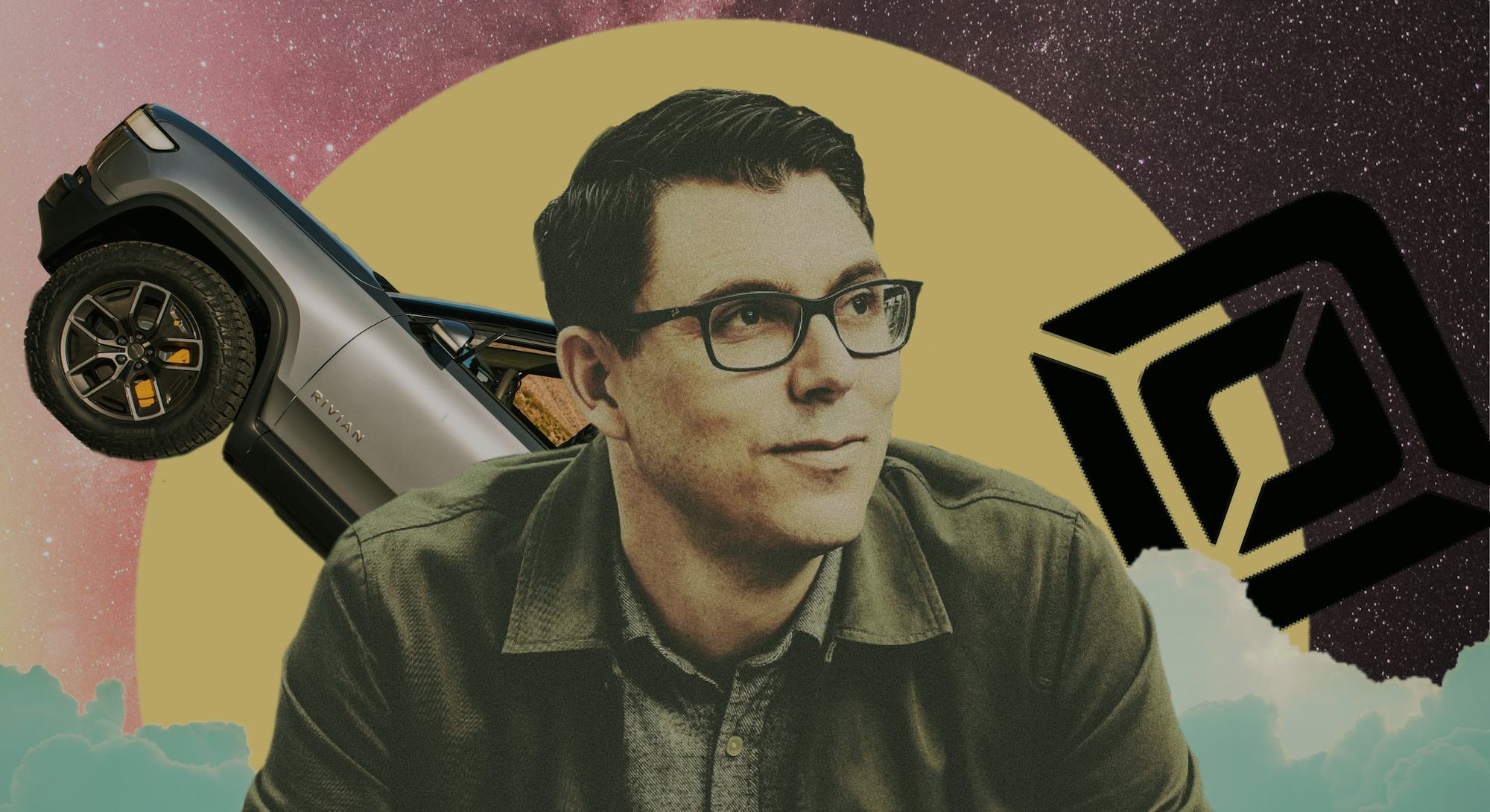 Future 50
Rivian Founder RJ Scaringe Lays Out the Big Future for Electric Cars
"Adventure is really for all. It's everything that we do in life."
Natasha Chomko/POST-WOOK, for Inverse
The perception of the electric car is changing.
By most accounts, the latest big debut from an electric automaker not only won over skeptics at the 2018 Los Angeles Auto Show, but it also became the show's surprise hit. That positive impression — first made from the inspiring heights of the Griffith Observatory — wasn't based on hype; it was based on the fact that there was no hype. And less hype is definitely what the electric car needs.
Rivian, which has both a truck and an SUV in the works, is the company that resisted the hype cycle by remaining in what its founder calls "true stealth" mode.
"What you see here is what will be on the market," said Rivian founder and CEO RJ Scaringe at the end of a 20-minute presentation inside the LA Convention Center back in November.
It's a sentiment he reiterates during a recent interview: "We are not going to show teaser concept cars. We are going to be showing things that are very well developed and almost 100 percent representative of what will ultimately be delivered to customers."
That strategy wowed the auto media: "Rivian was the toast of the L.A. Auto Show," opined Autoblog. "Perhaps Tesla should accelerate its truck program now," commented Inside EVs. "Its new R1S SUV … looks disruptive and on-trend," reported Car Magazine. "Their truck got the attention in L.A. but this could also be a category first," predicted Tom Randall, a transportation journalist for Bloomberg.
The R1T is the Rivian pickup truck with a base price of $69,000 before the federal electric vehicle tax credit of $7,500 kicks in. It boasts a range of 400 miles for the high-end battery, should go 0-60 mph in three seconds, seats five people, and has 750 horsepower. Notably, it has a "gear tunnel" hollowed out of its body. Renderings of modular add-ons among Rivian enthusiasts are currently the hot topic online. Battery packs will be sized from 180, 135, and 105 kWh, with the biggest (and most expensive) battery vehicles being delivered first in the second half of 2020. It's a pickup truck with a fandom.
Meanwhile, the R1S is the Rivian SUV with a base price of $72,500 before the federal tax credit. Though, with options, the luxury vehicle could get close to $100,000. It seats seven people and can tow up to 7,700 pounds. It has the same battery size as the truck and is also built on Rivian's "skateboard" chassis model: a motor for each wheel is set alongside a battery base (the "deck" of the skateboard).
Right now, Rivian is taking preorders with a $1,000 deposit for either the truck or the SUV.
"We've spent a lot of time; thousands of decisions, hundreds of people putting this together to make sure all the pieces are lined up," Scaringe said during the LA Auto Show. Rivian's two vehicles are the results.
"No Teaser Cars," and the Rivian Coupe That Wasn't
It didn't always appear so outwardly easy for Rivian. Scaringe says he made a mistake back in 2011 that informed his "true-stealth" strategy almost a decade later.
"When I first started, I was a little less quiet," he says. "We said a few too many things. In fact, it showed a sneak peek picture of our coupe vehicle."
But Rivian never made that coupe, seen in a photo that still lives on the company's Wikipedia page as a royal blue model, reminiscent of an Audi A3. With a silky car cover seductively pulled up to show one wheel, it's a tease for a car that never came. It was a prototype, and the marketing wasn't unlike what other new car companies engage in to build buzz.
But with the R1T and R1S, Rivian didn't show as much as a bumper before the LA Auto Show. That will be the Rivian M.O. going forward, Scaringe says.
"Just as we did with our first products, we're not going to show teaser concept cars," he says.
Scaringe says that in spite of the company's no-leaks, no-hype policy, the pace is aggressive behind closed doors.
"If you were to see how we are internally, we're pushing timing aggressively," he says. "We're always driving ourselves harder. We're super-excited about not just the current products but the future products. But, we have to adjust what we say externally such that we don't set up any false expectations."
See also: Who's Driving a Rivian in 2029?
Avoiding attention until the right time manifested itself in ways that felt more secret than private — like a lack of signs on its buildings.
Rivian facilities in Michigan and California didn't have signs on them before the LA Auto Show, Scaringe says.
"We were in stealth. 'Stealth' is such a funny word because many companies that claim to be in stealth are in fact the opposite. They're hyping and promoting the business.
"We were truly in 'stealth'. It was a beautiful thing because it allowed us to avoid critique and criticism and, frankly, finding ourselves talking about things for which we weren't ready to talk about."
Finding the right facility to build an electric car plant is a complicated task for any new automaker, so rather than build a plant from the ground up, Rivian acquired a former Mitsubishi plant in the central Illinois city of Normal.
"We're spending significant dollars as we speak," Scaringe tells me of the design for new equipment that will go into the 2.4 million square foot plant on the Illinois plains. The company must create no less than 1,000 jobs. Rivian will spend up to $175 million in the plant by 2024, according to the state's Department of Commerce and Economic Opportunity, as reported by Reuters.
Right now, the facility is undergoing a full transition, Scaringe says. The company is moving out the old, preparing the space for the new, and "at the beginning of summer, we'll start moving a lot of that new equipment into our facility."
Amazon's Major Investment
In February, Rivian announced a $700 million investment round led by Amazon.
It was a major investment for Rivian, which up to that point had raised $450 million, according to a company official. It wasn't clear how much Amazon invested, other than that it had led the round.
A few days after the news, Scaringe offered a little more color around what the Amazon investment meant to Rivian:
"The key thing for us that is so exciting about Amazon is really their orientation [of] combining innovation with creating incredible customer experiences," he says. "You can imagine there's a lot of other elements of the business that we're quite excited about looking at how we can partner with."
Scaringe wouldn't comment further on involvement from Amazon, but a few days before the investment in Rivian, Aurora Innovation, a self-driving car startup, announced it had closed a $530 million Series B round led by Sequoia Capital, of which Amazon was also an investor. Rivian's R1S and R1T models will drive on their own, almost — each has LIDAR sensors, and the company says the vehicles will be "Level 3" capable. "Don't feel like driving after a day of hiking or cycling? Relax with a movie or turn your attention to your companions while on the highway," advises Rivian on its website.
Rivian's other backers include Japan's Sumitomo Corp., Britain's Standard Chartered Plc., and Saudi auto distributor Abdul Latif Jameel Ltd. Scaringe wouldn't comment on rumors of investment by "General Motors or any of the other [original equipment manufacturers]" in our interview.
The Big Definition of "Electric Adventure"
Let's explain the "Patagonia" quote. It's from Scaringe during the LA Auto Show, and has been repeated a lot about Rivian. Scaringe dropped the favorable comparison between his company's eco-conscious, modern, chic, aspirational SUVs and Patagonia, the eco-conscious, modern, chic, aspirational clothing brand.
"Every single one of [our products] has to have this Patagonia-like feel of enabling adventure," Scaringe told Sean O'Kane of The Verge.
"Electric Adventure" has become Rivian's tagline, and Scaringe defines adventure in the broadest terms possible, as something for everyone.
"We really are striving to position ourselves as the company that enables and promotes adventure, and when I say 'adventure,' we wrongly think of someone climbing up the side of a mountain. Adventure is really for all. It's everything that we do in life."
Along with that adventurous spirit with which Rivian is aligning itself is an intense focus on promoting sustainable energy. When asked if he thinks it should be a topic in the 2020 election, Scaringe goes big: "I think we are at an inflection point as a planet where the generations that follow us are either going to have to deal with the problems we didn't fix or will have a much easier situation if we do manage to address these problems appropriately."
He continues: "What's shocking to me is the resistance to shift things, not just within automobiles and transportation but within the entire energy ecosystem. What we're doing now is essentially burning off what took hundreds of millions of years to accumulate.
"All the carbon on the planet for several hundred million years was buried into the surface of the Earth and became liquid or solid fuels, essentially coal or petroleum. What's shocking is we've used about half of that in just 100 years."
Scaringe says he's also shocked society isn't moving faster toward a sustainable energy solution when the stakes are brought into focus.
"It's shocking to me that this is even a discussion"
"It's shocking to me that this is even a discussion; that we're not just sprinting as fast as we can toward shifting towards something sustainable, because what we're doing now is putting a ton of risk on something that'll happen either way," he says. 
"In 100 years, we're not going to have a choice. We're just playing Russian Roulette with the stability of our planet's climate by fundamentally changing the atmospheric makeup."
What About Tesla?
Scaringe's focus on the future and his level of passion for the future of the planet is rare among automotive CEOs who make cars that run on fossil fuels, but he has a like-minded counterpart in Tesla chief Elon Musk. The comparisons to Tesla can't be avoided if you're starting an electric car company in America, especially when the next vehicle to be unveiled by Tesla looks to be a pickup truck.
As you might expect, Scaringe says he doesn't see Rivian as competing with Tesla. He wants to see more people make the decision to buy an electric vehicle instead of one that drinks gasoline. (The natural competitor for Rivian's R1S SUV might be Land Rover's Range Rover.)
There were more than 17 million new cars sold in the United States in 2018; just 245,240 of them were Teslas. Scaringe is thinking bigger in regards to what the next decade holds.
"I think Tesla has helped to open up this space," he says of Tesla's success that, in part, made room for Rivian. "Because they were the first, because they command so much of the market, everyone looks at any new player in this market as purely taking volume from Tesla, but Tesla's not who we're taking volume from."
"We're taking volume from all the non-electric vehicles, and that's where the market for electric vehicles is going to expand greatly."
"It's not like we wake up in the morning thinking about we're going to top Tesla"
The Rivian R1T pickup truck should be markedly more mainstream than the Tesla pickup truck, which has yet to be fully revealed. The only official image of the truck is literally just a black box; showing another difference between the "true stealth" ethos of Rivian and the more publicity-focused Tesla, lead by Musk, whose reputation as a savvy marketer and hype-builder has gotten him into trouble with the SEC.
"I can't talk about the details, but it's gonna be like a really futuristic-like cyberpunk, Blade Runner pickup truck," Musk gushed about the Tesla pickup during an interview in November, a few weeks before the Rivian truck made its debut in LA. "It's gonna be awesome. It's gonna be amazing. This will be heart-stopping. It stops my heart."
All of that said, the more mainstream-styled Rivian pickup truck should have a broader appeal than Musk's Blade Runner pickup. With its classic lines, brilliantly practical design touches (The fold-down utility step! That gear tunnel! The massive frunk!), and luxury options, it seems poised to be the smartest pickup truck on the market.
"It's not like we wake up in the morning thinking about we're going to top Tesla," Scaringe says. "In fact, it's the opposite."
However, there is one very bold design element in Rivian's two-vehicle range that's both modern and restrained: the daytime running light across its face. A long, horizontal light bar wraps around the front of the vehicle, studded by two "stadium lights." It might turn off some customers while drawing in others. It's the most out-there look that the otherwise traditionally designed vehicle claims. It also has a great Easter egg, Scaringe says.
"When the vehicle is charging, that middle portion [of the cross-car daytime running light] goes green," he says. When the cross-car headlight becomes fully green, the vehicle's battery is fully charged, just like a cell phone or Bluetooth speaker or external cell phone battery.
Originally from Florida's Space Coast, Scaringe, 36, now splits his time between Rivian's offices in Michigan and California. He's married with three boys; the oldest is 3 years old and the youngest is 4 months.
"My wife is incredible because I'm home maybe one or two days out of the week, and she's outstanding," he says. "She's super supportive and really just great in recognizing that I'm full-on focused on what we're building here, and she's been just such a great supporter."
As CEO, Scaringe says the most important part of his job is minimizing risk to Rivian's business and adds that no day is the same.
"This is not something that goes 8 a.m. to 6 p.m.," he says. "This is from the moment I wake up until the moment I go to sleep, seven days a week. It's how I like it. It's how I started the business."
What's Next for Rivian
The future of Rivian — now with about 750 employees — includes a lot of converging visions, but it's hard to see how anywhere will be busier than the plant in central Illinois. Scaringe has hired Rivian's leadership team and a product development team. Now it has to hire skilled workers for its plant. That's what's next for this growing company in the last year before a new decade.
"What will happen in the next two years is we'll have to, of course, add significant people to actually run and operate the plant," Scaringe says.
After that, it will have to build out retail, service, and charging infrastructure (Rivian is using the CCS charging standard, meaning you can't charge a Rivian at Tesla's Superchargers). Like Tesla, Rivian is choosing the direct sales model.
In the next decade and beyond, Scaringe says the ownership model will become less common. There will be even more short-term rentals and car subscription services, and he expects Rivian to be part of that, potentially with its own service.
In the very near future, Rivian has the New York Auto Show in mid-April, its first major appearance since its impressive debut in Los Angeles last fall. Scaringe doesn't expect Rivian's electric vehicle offerings to be a rarity for too long.
"I think we're going to start to see more compelling electric vehicles come out of different manufacturers," he says of automakers who have only dabbled in hybrids before.
As more automakers think about how to introduce their electric vehicles, they might do well to adopt Rivian's "true stealth" strategy when developing their own electric vehicles, which have been maligned for the hype around them over the years.
"Hype is short-lived," Scaringe tells me. "Hype always loses to the facts."
Email the author: nick@inverse.com
See also: Who's Driving a Rivian in 2029?