3 Reasons We're Crazy About This Commuter Jacket
Ministry of Supply has an incredible jacket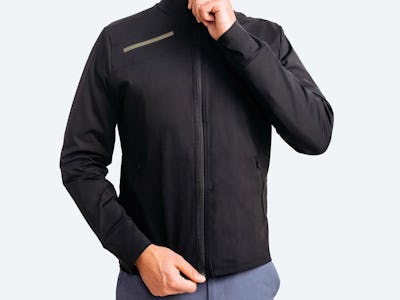 Ministry of Supply
The Labs Illuminted Commuter Jacket is one of our favorite jackets we've reviewed this year and that's saying something because we've already viewed a couple. You can check them here and here.
This jacket is made for commuting as the title indicates. It's billed as "perfect for active commutes, this softshell features a moisture wicking 4-way stretch shell, reflective trim and four integrated LED lights guides to keep you comfortable and safe." The lights, although a cool feature, we're probably our least used feature, we did love this jacket. Here's three reasons why.
It's great for colder weather. We wore this jacket as the only outer layer in 45 degrees and up. That means this coat is great in the fall, warmer winter days and the spring. We found it to be incredibly comfortable. We also used this as a mid-layer and it worked well there. This has a year round function as most of the jackets do but this one really stood out as being able to handle the elements.
It moves with you. This was a big plus and a big must-have for a jacket that claims it's good for commuting. We found this to be really comfortable on the commute as well as working in our office. This jacket is a little heavier in weight (important for the colder temps) but we could keep it on for a long time.
Design. We've touched on this in points 1 and 2 but this was really important to us. Pockets were plenty and deep, the LED lights were a nice touch, especially for evening bike rides home in New York. It's sleek and pairs well with casual or more business dress. The versatility of a coat like this is important because the price tag isn't cheap.
The Price: $185 gets you this coat. Our staffer who tested this didn't hesitate to say that he'd put down that money to buy this coat. When you consider how many months a year you can use this and the fact that its design makes it versatile with a lot of different looks. We think $185 is more than a fair price for the value you'll get here. If you're looking for a good job to get you to and from work on most days, this is the jacket for you.