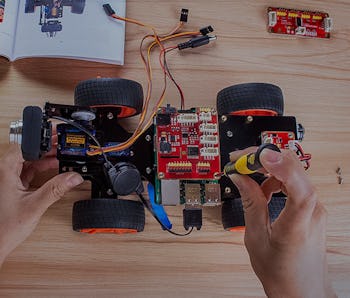 Innovation
Build Your Own Toy Car with This Raspberry Pi Kit
Get hands-on electronics experience for only $150
stacksocial
The Raspberry Pi is an incredible piece of machinery, but many people fail to see it for what it is due to its size. A low-cost mini-computer, it's not only used for taking in and processing information, but it's also an excellent tool for kids and adults alike to create a slew of projects. This minute device uses Python programming to build useful machines, like smartphones, video game consoles, and even toy cars. But in order to make these awesome gadgets, you would need an arsenal of instruments, sort of like a reliable toolbox that carries everything you might need.
Enter the SunFounder Raspberry Pi Robot Kit. If you're looking for hands-on electronics experience, you should get one of these. The kit supplies tools that will help you make your own racing robot car, including a wifi adapter, circuit boards, and motor drivers. Don't get too intimidated by all the bits and pieces, all you have to do is follow the instructions to assemble the four-wheeler of your dreams.
You May Also Like: 5 Handy Projects You Can Do Yourself with Raspberry Pi
Equipped with all the necessary hardware and easy-to-follow directions, you'll be able to set up your robotic vehicle in no time. Once that's done, you can proceed to program the automobile with pre-written Python code to get it up and running right away! The car can then be driven through your mobile phone, tablet, or computer. With its wide-angle webcam, you can access live footage straight to your device.
Dip your toes into the world of electronics with the SunFounder Raspberry Pi Kit. Take one home now for $149.99 with the Raspberry Pi 3, or get it without the board for only $109.99.