5 Handy Projects You Can Do Yourself with Raspberry Pi
Coding these mini-computers couldn't be simpler.
by Inverse Loot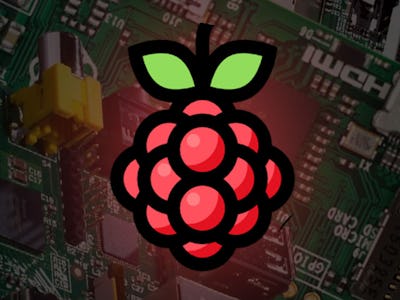 Sometimes less can do a whole lot more, and the Raspberry Pi is one of those minute pieces of engineering that packs a big punch in a bite-sized package. The darling of engineers, tinkerers, nerds and tech enthusiasts, this single-board computer is a tool for kids to learn about robotics and a gadget for grown kids to trick out into IoT devices.
Originally made by academics and technicians to ramp up floundering interest in computer science in 2008, this low-cost mini-computer uses Python programming to inspire a multitude of projects, whether you want to pick up basic programming or build a robot. And just in case you need some weekend inspiration, here are five ideas in the Raspberry Pi bundle to get you started.
Make A Photo Booth
One of the bundle's eight courses includes "Introduction to Raspberry Pi," which teaches you how to build physical things through programming.
Planning a big party and want to give guests a sweet memento of the night's festivities? A clever Instagram hashtag is not a terrible idea. But how much better would it be to build a photo booth? Using Raspberry Pi create something simple with your design, or get a little fancier with a touchscreen and little countdown timer. You can even make it auto-upload GIFs.
You can build a home security system thanks to the miniature size of the Raspberry Pi paired with its IoT capabilities. All you need is an outlet, and Raspberry Pi's automation abilities handle the rest.
In the bundle's "Automation in 48 Hours Without Coding" course, you'll learn Cayenne, the world's only drag-and-drop IoT project builder. Developed to quickly design, prototype, and commercialize IoT solutions, Raspberry Pi uses analog sensors plus learn to operate digital motion sensors.
Make Your Own GoPro
Whether you want to make the next great documentary or just have a record of your most epic hikes, road trips, and other adventures, you don't need to spend money on expensive action cameras or GoPros — you can just make it yourself. Using Raspberry Pi Zero, you can make a wearable camera powered just by Pi and a battery.
With the "Automation with Raspberry Pi Zero" course included in the bundle, you'll be able to explore the newly launched Raspberry Pi Zero. You'll learn how to program the small LCD screen and display dynamic data, plus complete two projects that'll give you the hands-on practice you need before you start building your own projects.
Protect Your Devices With A Raspberry Pi VPN
It's a more sophisticated project, but you can definitely make your Raspberry Pi work for you in the wild world we call the internet by turning your Pi into a VPN and proxy that you can even use when you're away from the house. Not only will you protect your personal data from prying eyes, you can keep all your traffic secure. You can also make your own whole-network ad blocker that shields you from malware and annoying ads that pop up while you're just trying to surf the web in peace.
Make Your Own Amazon Echo
This year, forget Black Friday — make your own Amazon Echo. With the "Internet of Things Automation Using Raspberry Pi 2," you'll learn how to program your Raspberry Pi to interact with the physical world — plus with the "Hardware Projects Using Raspberry Pi," you'll figure out how to make your Pi perform physical computing, whether it's responding to motion sensors or just a trigger word.
Get all eight courses included in the bundle today — starting at $34, or 96 percent off.
Inverse may receive a portion of sales from the post above, which was created independently from Inverse's editorial and advertising team.