The XtremePro Action Cam Is a Cost-Effective Alternative to GoPro
Let the adventuring commence.
by Inverse Loot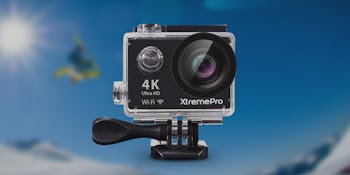 stacksocial
Are you a budding stunt double on a budget? Do you like strapping a camera to your bike and document death-defying traffic maneuvers? Do you wish GoPros were less expensive? If you answered yes to any of these questions, then you need to check out the XtremePro 4K Ultra HD Action Cam.
This camera functions like a GoPro — small, handy, and perfect for capturing your inner-daredevil — but at a fraction of the price. The XtremePro shoots stunning 4K videos and 12-megapixel photos and even works great in fast-moving situations or underwater (the waterproof casing protects it up to 98 feet deep). This camera comes with mounts, which will make attaching to your car, bike, or helmet easy, and a wrist remote that allows for wirelessly snapping photos. There's also built-in wifi so you can use your smartphone as a viewfinder.
The XtremePro 4K Ultra HD Action Cam with Mounts normally costs $149.99, but you can get it now for just $69.99, a savings of 53 percent.
Inverse may receive a portion of sales from the post above, which was created independently from Inverse's editorial and advertising team.