This Routine Antibiotic Could Prevent Three Common STIs, New Research Shows
Doxy-PEP appears to lower rates of gonorrhea, chlamydia, and syphilis among the highest risk populations by two thirds.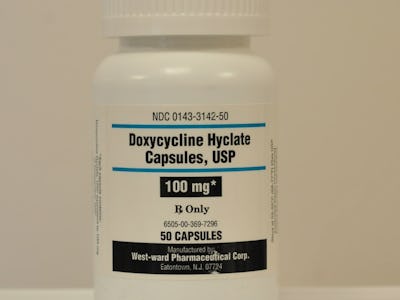 MediaNews Group/Reading Eagle via Getty Images/MediaNews Group/Getty Images
Modern medicine has transformed some sexually transmitted infections from certain death to minor inconveniences, and innovations are still coming. Post-exposure prophylaxis (PEP) is an emergency treatment taken up to 72 hours after unprotected sex to prevent HIV. But new and promising research suggests that a form of it also halts bacterial STIs like chlamydia, gonorrhea, and syphilis.
The regimen is a 200-milligram dose of the antibiotic doxycycline, called doxy-PEP. A year-long study published this past April in the New England Journal of Medicine demonstrated that among 501 trans women and queer men taking doxy-PEP within three days after unprotected sex reduced new STIs by two-thirds compared to standard care. Crucially, STI rates are disproportionately high among the groups represented in the trial.
"Given its demonstrated efficacy in several trials, doxy-PEP should be considered as part of a sexual health package for men who have sex with men and trans women if they have an increased risk of STIs," lead author Annie Luetkemeyer, a professor of medicine and infectious diseases at the University of California, San Francisco, said in a press release.
In the weeks following the study's publication, the state of California suggested healthcare providers offer doxy-PEP to treat chlamydia, gonorrhea, and syphilis.
Doxy-PEP could especially aid certain high-risk groups like those already living with HIV and taking pre-exposure prophylaxis (PrEP), which is a regimen that works to prevent the virus prior to exposure. Still, Doxy-PEP needs more investigation before prescription to cis women. The evidence also shows that the risk for antimicrobial resistance is minimal, but again, more research is needed.
In 2022, the Centers for Disease Control responded that they were "encouraged by the initial data" from this study. The response also highlighted the urgency of the need for STI treatment. "We must move quickly to implement powerful STI prevention strategies. And it is our public health imperative to develop responsible guidance based on careful consideration of all available data and public health risks and benefits.