Why Postpartum Depression Needs Its Own Medication
Postpartum depression affects about 1 in 7 people after they give birth.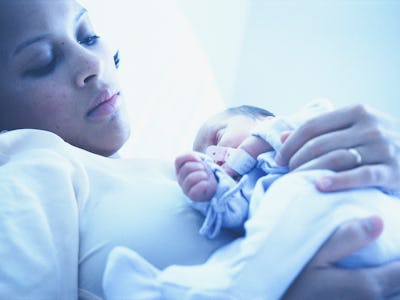 BSIP/Universal Images Group/Getty Images
On August 4, the Food and Drug Administration (FDA) approved the first-ever oral treatment specifically for postpartum depression. Zuranolone from Biogen and Sage Therapeutics, Inc. is a pill taken daily for 14 days and marks just the second approved medication for the condition. A plethora of oral treatments like fluoxetine, sertraline, escitalopram, and others have treated major depression disorder for decades and have been prescribed to those experiencing postpartum depression. So how does this new pill differ from the bevy of available antidepressants?
Postpartum depression affects about 1 in 7 people after they give birth, according to the National Institutes of Health. It can also affect those who recently adopted a baby. It shares many symptoms with clinical depression, such as feelings of hopelessness, unintentional dramatic changes to sleeping and eating habits, and difficulty concentrating and making decisions, according to the Centers for Disease Control and Prevention. It differs in that symptoms also involve the baby, like feeling distant, thoughts of harming your newborn and feeling incapable of caring for your child. Untreated postpartum depression can harm the person experiencing it as well as their child, as it impacts the parent's ability to care for their baby.
Typical antidepressant pills take effect after several weeks, but zuranolone can significantly improve depressive symptoms as soon as three days into the regimen, according to a study published in July 2023 in The American Journal of Psychiatry.
The new postpartum depression treatment may also prove beneficial for major depressive disorder. A paper published in February 2023 in The Journal of Clinical Psychiatry relayed the results from a phase 3 clinical trial assessing its effectiveness for clinical depression. The randomized, double-blind trial compared the effect of zuranolone against that of a placebo in 581 adults with major depression. According to the paper, the researchers observed "significant rapid improvements in depressive symptoms ... at days 3, 8, and 12." A larger phase 3 clinical trial with over 1500 participants concluded in July.
Zuranolone has advantages over brexanolone, the only other medication approved to treat postpartum depression, which is also produced by Sage Therapeutics and was approved in March 2019. Brexanolone is given as a single 60-hour IV drip, which can be costly and must be given in a hospital setting.