Ozempic Might Help You Lose Weight — It Might Also Give You Cancer and Organ Failure
The drug's side effects include kidney failure and cancer.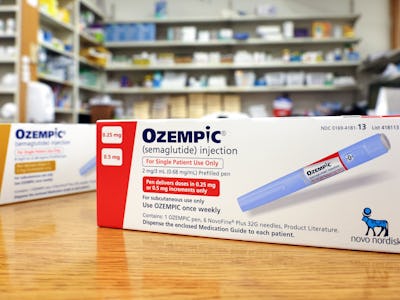 Mario Tama/Getty Images News/Getty Images
Ozempic, the diabetes drug that has taken the internet by storm, isn't as benign as it may seem. According to recent reports, another side of these drugs is side effects that are so grisly they may result in hospitalization.
Brain fog, weird dreams, and sleeplessness comprise a few reactions described anecdotally, but Ozempic's worst side effects appear to include thyroid tumors, pancreatitis, changes in vision, hypoglycemia, gallbladder issues, kidney failure, and cancer, according to the drug's official website.
Mayo Clinic endocrinologist Meera Shah told CBS News this week that pancreatitis and gallbladder problems manifest the most severe complications in her patients.
Its most common side effects — nausea, diarrhea, stomach pain, and vomiting — raise an eyebrow, too. While these experiences aren't unheard of with prescription medication, Shah told CBS News that "at least 10 [percent] of patients who start these drugs have to be taken off of them because the side effects do not improve."
Ozempic's and its cousin, Wegovy's operative compound, what's called a semaglutide, belongs to a class of medications called glucagon-like peptide-1 (GLP-1) receptor agonists. GLP-1 receptor agonists were meant to help produce insulin and lower blood sugar while blocking the brain's hunger signals and slowing digestion. In the process, it saps all desire to eat and leads to weight loss. They're administered as weekly injections.
A few side effects don't appear on Ozempic's website, like malnutrition and facial aging, a.k.a. Ozempic face. The New York Times reported on one woman taking Ozempic who experienced extreme exhaustion that her doctor speculated could be malnutrition. Shah typically advises her patients to take multivitamins or protein supplements while on Ozempic.
What's more, Ozempic is only approved by the Food and Drug Administration for type 2 diabetes, not weight loss (although Wegovy is). We still don't know how these drugs, when used for rapid weight loss, affect the body long-term.
"There's a lot of excitement about how good [these drugs] are, and certainly they are very good, but there's a little bit of an unknown in terms of long term," Shah told CBS News. "At some point, does your body not respond to it anymore? I don't know."