Forget 10,000 Steps — Scientists Discovered the Minimum Steps Needed to Improve Your Health
This oft-repeated number may seem daunting, but the barrier for entry to walking's health benefits is actually much lower.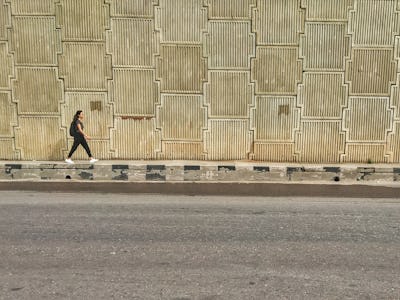 NurPhoto/NurPhoto/Getty Images
At this point, the notion that we should all strive for 10,000 steps per day has been (like a certain other philosophy involving the number 10,000) debunked. Nobody's arguing that reaching 10,000 steps a day is bad for you, but sometimes the bare minimum truly suffices when it comes to maintaining good health. The only question is where that minimum sits.
A paper published today in the European Journal of Preventive Cardiology analyzed 17 prior studies on daily steps and risk of death. If you want to be exacting about their conclusions, walking 2,337 steps daily was the threshold necessary to reduce the risk of death by cardiovascular diseases; 3,967 steps were needed to reduce the risk of death by any cause. Every additional 500 steps were associated with a 7-percent reduction in risk of death from heart disease, and every additional 1,000 steps with a 15-percent reduction in risk of all-cause death.
The team looked at the effects all the way up to 20,000 steps per day, or around 10 miles. They confirmed that when it comes to health effects of steps walked, more, even up to 10 miles a day, is better. Still, the team emphasizes that starting with even 2,500 steps per day — one mile — confers health benefits, which is the goal for anyone looking to start from zero.
More steps, of course, won't hurt. "Our study confirms that the more you walk, the better," lead author Maciej Banach, professor of cardiology at the Medical University of Lodz in Poland, told The Guardian. "We found that this applied to both men and women, irrespective of age, and irrespective of whether you live in a temperate, subtropical or subpolar region of the world, or a region with a mixture of climates."
This meta-analysis examined health data from a total of 226,889 people with an average age of 64 who were followed for about seven years. Those under 60 nearly halved their mortality risk when they walked between 7,000 and 13,000 steps daily. Those over 60 who walked between 6,000 and 10,000 steps daily saw a 42-percent reduction in mortality risk.
Considering heart disease is the leading cause of death in the U.S., knowing the precise step at which the benefits kick in can change lives. A manageable minimum could make exercise more accessible to those with limited time or capability to walk.