When Should You Get Your Fall Covid-19, Flu, and RSV Vaccines? The Science of Timing it Just Right
In short: Ideally before November 1.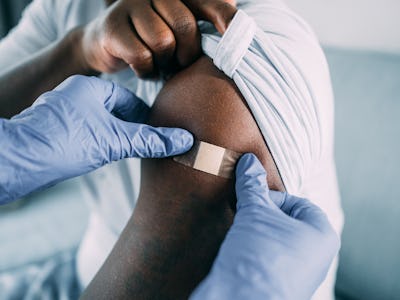 VioletaStoimenova/E+/Getty Images
Fall is more than the start of flu season. Now, it's also the time to get vaccinated against up to three viruses: flu, Covid-19, and respiratory syncytial virus (RSV). But is there an exact science behind vaccine timing? In short, ideally before November 1.
It's safe to get boosted for flu and Covid-19 at the same time, according to public health expert and vice president of science, medicine, and public health for the American Medical Association (AMA) Andrea Garcia. The main advantage there isn't necessarily linked to a more fortified immune system, but rather a trip saved. Pairing flu and Covid-19 vaccines saves you an additional appointment, and delaying one could mean putting it off entirely.
Garcia also suggests the best months for vaccination. "In general, September and October are really good times to get the flu vaccine," Garcia said on the podcast AMA Update. The Centers for Disease Control agree that September and October are prime vaccine months because they immediately precede peak flu circulation, which is historically between December and February. This also goes for RSV. The RSV vaccine, which was approved by the Food and Drug Administration for adults over 60 this past May, is now available in major pharmacies. For those who need all three, it's safe and convenient to get them all at once.
Elderly adults and other people vulnerable to these viruses should also wait until this window to get vaccinated so their immunity will be strongest when infections are most rampant, according to the CDC. Healthy adults, however, have flexible timing because neither virus poses as large a health risk as it does to the elderly and more vulnerable adults.
The priority, however, is to get vaccinated before sickness starts spreading. Jennifer Nuzzo, epidemiology professor and director of the Pandemic Center at the Brown University School of Public Health, previously told Inverse that the best time to get inoculated is, essentially, before you're infected. Of course, when flu, Covid-19, and RSV cases rise in later autumn, you're much more likely to contract at least one of them.
"The goal is generally to get vaccinated before the virus is spreading in your community," Garcia said.
If you have or recently had Covid-19, then you'll want to hold off on the vaccine. Once you're symptom-free and testing negative, the infection acts as a natural boost of immunity that can last about three months, Nuzzo said; there's no point in also getting vaccinated if you're naturally immunized. When you're through with Covid-19, get your flu (and possibly RSV) vaccine — Covid-19 immunity does nothing against influenza.