Is Covid-19 Creeping Back? Here's What You Should Know About This Summer's Uptick in Cases
This time, there's no new variant driving this spike.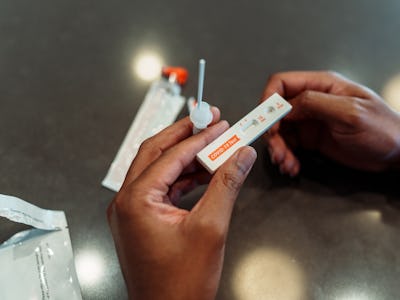 Fly View Productions/E+/Getty Images
The Covid-19 pandemic is no longer a global emergency. Over the past year, we've seen cases continue to fall. In fact, earlier this month, the number of deaths per day (not just from Covid-19) in the United States was considered on par with normal years. But in recent weeks, cases have started to climb. Is this something to worry about?
The short answer: Probably not. But it is a reminder that the virus will continue to remain a part of how we live our lives. Here's what you need to know.
This summer has brought the highest rates of hospitalizations from Covid-19 since December 2022, according to the Centers for Disease Control and Prevention (CDC). Weekly Covid-19 hospital admissions have also increased by more than 10 percent, though there have been no change in death rates.
This time, there's no new variant driving this spike. Currently, XBB1.5, an Omicron variant, has the highest recorded diagnoses. Generally, rates across the U.S. have been very low. In most counties, Covid-19 has accounted for fewer than 10 in 100,000 hospitalizations this past week. Several counties in Kansas, Nebraska, and Arizona reach between 10 and 20 per 100,000. The CDC clocks over 7,100 Covid-19 hospitalizations this past week.
Fall and winter are typically associated with transmissible respiratory viruses. But some researchers suggest travel and heat waves, which are keeping people indoors, could be driving up cases of Covid-19. It's possible, still, that these rates aren't completely accurate. With the advent of home rapid tests, whose results go unreported, an undetermined number of tests go unaccounted for. With the pandemic downgraded, submitting data on Covid-19 is now optional for labs. The CDC's testing data comes from over 400 labs that opt to send their information.
As a reminder, the tried and true methods for avoiding Covid-19 will still work. As a reminder, these are wearing a mask (particularly while in busy, indoor areas), social distancing, and avoiding crowded places like indoor bars and clubs. This could be particularly beneficial for those with weakened immune systems or those who have conditions that put them at a higher risk for severe Covid-19.
Though we may want to put the Covid-19 pandemic behind us, it's far from gone. Many people around the world are still dealing with its repercussions. For instance, long Covid treatment still varies on a case-by-case basis, making it difficult to improve at scale. Akiko Iwasaki, an immunology professor at Yale University, told the American Medical Association this past May that over 65 million people around the world cope with long Covid.
"Even though the emergency measures have been ended in many countries, long Covid is not going away," Iwasaki said.