How to Prevent Future Pandemics in 10 Steps
Global experts have created a guide for critical reforms in treating pandemics.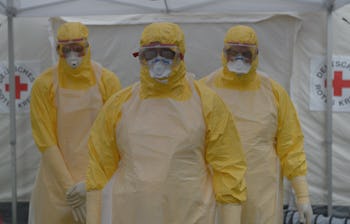 Timm Schamberger/Getty Images
It's difficult enough to beat a pandemic in a game (even when you're an epidemiologist!)… but what about in real life?
Harvard Global Health Institute and the London School of Hygiene & Tropical Medicine recently commissioned a group of 19 independent experts from around the globe to analyze the positive and negative responses to the 2014-15 outbreak of Ebola. The expert panel's findings were just published in The Lancet, and provide an unbiased look at how the outbreak was handled by health and political officials.
In short: Those officials did a pretty terrible job.
The experts asserted that while there were countless acts of courage and solidarity during the outbreak, those instances were drowned out by immense negativity and fear throughout the world. They wrote that the Ebola panic caused "immense human suffering, fear and chaos, largely unchecked by high level political leadership or reliable and rapid institutional responses."
The panel also put the World Health Organization on blast, saying that the WHO's "egregious failure" to sound the alarm about the impending pandemic caused dire consequences and contributed to the death toll of over 11,000 people. In fact, the WHO knew about the outbreak in spring, but failed to declare a public health emergency until August.
Ultimately, the panel was tasked with answering one big question: "How can we bolster the dangerously fragile global system for outbreak response?"
Here are the 10 guidelines the panel created to help keep things under control in the event of a major health catastrophe:
Develop a global strategy to invest in, monitor, and sustain national core capacities
Strengthen incentives for early reporting of outbreaks and science-based justifications for trade and travel restrictions
Create a unified WHO Center with clear responsibility, adequate capacity, and strong lines of accountability for outbreak response
Broaden responsibility for emergency declarations to a transparent, politically-protected Standing Emergency Committee
Institutionalize accountability through an independent commission for disease outbreak prevention and response
Develop a framework of rules to enable, govern, and ensure access to the benefits of research
Establish a global fund to finance, accelerate, and prioritize research and design
Sustain high-level political attention through a Global Health Committee of the Security Council
A new deal for a more focused, appropriately-financed WHO
Good governance of WHO through decisive, time-bound reform and assertive leadership
Even though this detailed roadmap to creating a more organized plan in the event of a huge health disaster is a good starting spot, not everyone is convinced that we will be sufficiently ready for the next outbreak. Harvard Global Health Institute's Ashish Jha is skeptical that the world will have learned its lesson by the time the next catastrophe rolls around, but says that it's still a vital cause. "We owe it to the more than 11,000 people who died in West Africa to see that that doesn't happen this time," says Jha.
Now, the way things go during the next epidemic depends on the people in power.
The panel's director, Suerie Moon of Harvard, says their findings have opened up yet another query: "Now, the billion-dollar question is whether political leaders will demand the difficult but necessary reforms needed before the next pandemic."
Let's hope so.