When It Comes to E-Cigarettes, 1 in 5 Millennials Have Vaped at Least Once
More than 20 percent of adults aged 18-24 have tried e-cigarettes at least once.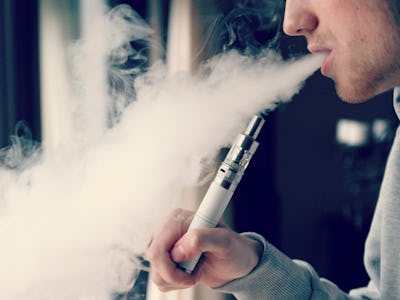 www.vaping360.com
Cigarette smoking is on the decline, according to a report released today by the National Center for Health Statistics, but e-cigarettes are rapidly gaining popularity in its place. Driving the rise are millennials, who appear to be vaping's earliest adopters.
What fundamentally differentiates e-cigarettes from their traditional counterparts is that they deliver nicotine in the form of vapor, as opposed to smoke. Because they replace the combustion process with battery-powered aerosolization, they're often thought of as less dangerous, but how their long-term health effects compare to those of regular cigarettes isn't clear. There simply isn't enough data to make conclusions. But that hasn't stopped e-cigarette producers and advocates from marketing them as "safer" alternatives and smoking cessation tools.
Based on data from the 2014 National Health Interview Survey, which investigated the e-cigarette use of over 36,000 Americans, some 13 percent of American adults have tried an e-cigarette, and 3.7 percent now regularly smoke them.
While usage varied by gender and race, the most interesting findings were the differences in age, which revealed the popularity of e-cigarettes — and the success of marketing campaigns — among millennials. More than 20 percent of adults aged 18-24 had tried them at least once, and use decreased with increasing age after that cut-off.
Because the report doesn't reveal whether current cigarette smokers use e-cigarettes to quit or to replace cigarettes or are smoking both, not much can be said about their actual efficacy as a smoking cessation tool. It did point out, however, that among cigarette smokers who had attempted to quit in the past year, more than half had tried e-cigarettes at least once, and 20.3 percent currently use them.
Only time will tell whether e-cigarettes are actually any safer to use than traditional cigarettes. Whatever the outcome, it's crucial to remember that both are, ultimately, vectors for nicotine — which is, according to the CDC, unequivocally unsafe.