EMPE CBD Gummies Are the Delicious, Fun Way to Take Cannabidiol
Check Out These 3 Excellent Varieties for Your Daily Does of CBD.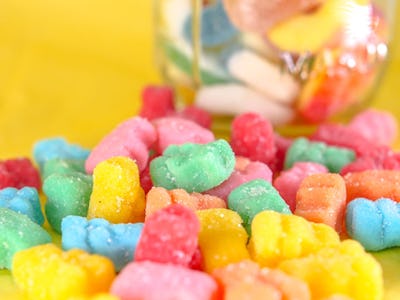 EMPE
There's very little chance that you're reading this without having heard of the medical benefits of CBD, also known as cannabidiol. Over the past few years, it's exploded in popularity, with proponents claiming it may offer significant benefits for a variety of aliments. And while there are a variety of ways to consume CBD, few if any are as delicious as EMPE's line of CBD gummies.
First up we have EMPE CBD Gummy Apple Rings, a mouthwateringly tart green apple flavored candy packed with 750mg or 1500mg of CBD oil. Each and every one of these rings is also loaded with other ingredients that are all engineered to accentuate CBD's pain relief properties as well as its accompanying sense of calm and well being. As with all EMPE gummy products, they're a great way to make daily or more frequent CBD dosing easy, and even something you'll look forward to throughout the day.
If your taste in candy runs toward the even more sour, EMPE CBD Gummy Sour Packs are for you. Available in the same concentrations as the Apple Rings, these candies are purportedly "a perfectly sour exterior and a creamy sweet interior," and "full of flavor from both ends of the spectrum." The sourest way to get your regular CBD doses is also the sweetest way, depending on your own personal taste, that is.
EMPE offers gummies in a variety of shapes and formulations, but you can't beat the classics, and Gummy Bears are classics for a reason. Like the above two options, CBD Gummy Bears come in two concentrations, but in this case you have the somewhat lighter options of 500mg and 1150mg. Both of these choices offer the classic Gummy Bear flavor and texture that you're undoubtedly familiar with, with the same quality ingredients that define all of EMPE's line of products. Best of all, they're priced a little lower thanks to their lower concentration of CBD, and a jar of these delicious treats, recommended in servings of one or two pieces, starts at just $49.99. Chewy, tasty, and timeless, this is the way to go if you're looking for a CBD alternative to the immortal candies of your youth.
EMPE USA is an industry leader in CBD, with a wide variety of CBD-infused products that pass on the oil's therapeutic properties for ailments like arthritis, nausea, anxiety, and general pain. Not all CBD brands are created equal, and EMPE stands out for a variety of reasons, like where its hemp products are grown, safely and organically in the USA, with THC levels certified at less than 0.03 percent, the maximum THC level for any CBD product from any respectable company in the field.
This post focused on EMPE USA's Gummy products, but you can find a much wider cornucopia of CBD-infused delicacies at the company's official site.