This Cooling Mattress Protector Is Just What Your Bed Is Missing
Sleep hot? This cooling mattress protector multi-tasks like no other.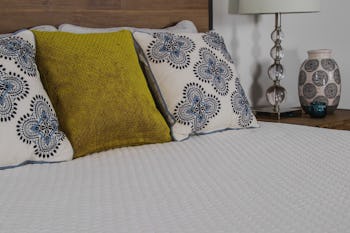 Brooklyn Bedding
I vividly remember being a child and being taught to make the bed. I remember asking my mother why so many sheets and blankets were required. Most notably, I remember asking about the first part of the bed-making process, which involved putting some kind of mostly see-through padded fitted sheet on the bed before the actual sheets. I'd ask why that was necessary and I'd get a bothered retort in response as if it was obvious to everyone but me, "it's so the mattress won't get ruined."
My mother wasn't always the best source of advice but one thing reigns true, mattresses aren't cheap. They don't grow on trees. And if your last mattress is any indication, you're probably going to own this one for years to come. Don't let it get ruined. Invest in a mattress protector. But not all mattress protectors are created equally. The aforementioned mattress protectors of my childhood bed were meant to be replaced as often as they ripped or developed an ugly looking stain—which was often—and they didn't offer anything unique in the way of added comfort or function.
But not all mattress protectors are created equally and just because there have been some dinky ones along the way doesn't mean there isn't a place for a solid mattress protector in your life. You spent big on your mattress and even if you didn't, if you have a bed you love, surely you want to protect it.
Enter Brooklyn Bedding's Luxury Cooling Mattress Protector. Designed to protect your mattress from all the life things that happen, such as drink spills, while also elevating the cooling capacity of your bedding so that you can sleep well without waking up in a pool of your own sweat.
Inspired by Brooklyn Bedding's best selling Aurora Mattress, this incredible mattress protector borrows the same high quality knit fabric construction as the best selling mattress so that if you own the Aurora or any other bed with a delicate quilted top, you aren't losing out on the function or aesthetics of that design. The super conductive upper material draws heat away from your body while the silky smooth fabric adds luxurious comfort that'll have you feeling like you robbed a hotel room of its bedding.
All fabric used was chosen specifically for its hypoallergenic properties so that your bed doesn't become a hot bed for bacteria, bed bugs, dust mites and worse. More over, it doesn't just absorb the inevitable spills. Instead, it repels them by actually being waterproof so that no moisture even comes into contact with your mattress—resulting in those all too familiar, but still unsightly brown stains mattresses are known to acquire. And like the mattress protectors of my childhood, the Luxury Cooling Mattress protector goes on just like a fitted sheet for easy bed making and stripping on laundry days. Oh yeah… unlike your mattress, this mattress protector is fully machine washable so that you can rest peacefully knowing that your bedding is as clean as you like.
I'll leave you with this: there a couple things in life that the general consensus deems worthy of investment, those things include but are not limited to shoes and bedding. You live your life in both these things. They're a huge part of how your body finds support through all the incredible tasks its able to accomplish on a daily basis. Protecting your mattress is just as important as having a good mattress.