For Amazon Prime Day, You Can Get 23andMe for $100 Off
Curious about your genetic ancestry? Now is your chance.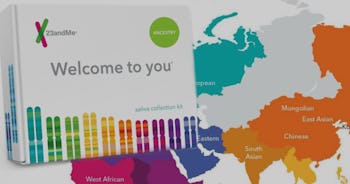 23andMe
If you've been curious about your genetic details and have been waiting for the right opportunity to purchase one of the many available tests, there's no time like the present. As part of the many available Amazon Prime Day Deals, 23andMe is now on sale for 50% off its usual cost of $199. Now only a whopping $100, all you have to do is test your saliva based on the included instructions, mail it away to the lab with the included pre-paid postage and your full test results should be available within 6 to 8 weeks without any additional fees required.
While I'm sure you've heard of people who have learned about ethnic links they never dreamed of being a part of, ancestry links are not the only thing that 23andMe will be able to illuminate for you. With more than 10 available tests for Health Predisposition, you can find out if you are likely to suffer from ailments such as Type2 Diabetes, Early and Late-On Set Alzheimers as well as Celiac Disease, but they also offer Wellness reports that can shed light on your likelihood to carry genetics that might increase the likelihood of Cystic Fibrosis, Sickle Cell Anemia and hereditary hearing loss in yourself and any possible offspring. But that's not all you can glean from taking a 23andMe test, you can also learn how your genetics influence your deep sleep, your lactose intolerance and your weight while also learning if there are people in your ancestory history who had the random red hair you seem to possess, the curls you haven't been able to source and more relating to your phsyical features.
With the included companion app, you can review and keep track of your interpreted results If you're the type who knows how to read detailed lab reports, 23andMe includes your raw, uninterpreted genetic data file as both a keepsake and something you can analyze on your own in an effort to achieve greater clarity on your genetic history.
At only $100 and all of these amazing things included, this deal is among the absolute best that Amazon Prime Day has to offer. Act now so you don't miss it.