You Can Now Get CBD Sour Bear Gummies
Pair That Classic Sour Gummy Taste With Pure CBD Bliss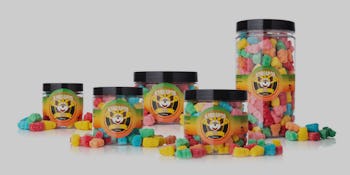 Inverse
The Details:
Say goodbye to the adverse effects of THC-based cannabis.
Has the potential to help anxiety, sleep disorders, stress, depression, and chronic pain.
Tastes just as good as classic sour gummies.
Always consult your doctor before trying CBD for the first time.
Why You Want It: Though technically it hasn't been FDA-approved yet, CBD is essentially marijuana without the paranoia and other adverse effects that can come with THC. Whether you're already a fan or looking for your first try, these CBD sour gummies are a no-brainer for candy lovers. Plus, you get a special discount right now when you nab them at The Inverse Shop.
The Deal: If you're lucky enough to be in a CBD-legal state, you should head over to The Inverse Shop for 16% off this 250mg pack of high-potency CBD sour gummies. That's just $24.99 out the door instead of the normal $29.99.