Just 5 Minutes of This Vigorous Daily Activity Could Significantly Cut Cancer Risk
You know HIIT — meet VILPA.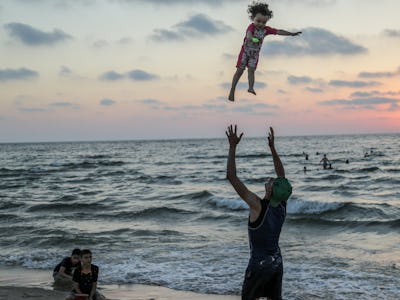 SOPA Images/LightRocket/Getty Images
You may know high-intensity interval training (HIIT), but now meet VILPA: vigorous intermittent lifestyle physical activity. It might sound even more intense, but it's actually the opposite: VILPA is something you probably already do on a daily basis; you just weren't giving yourself credit for it. And, as it turns out, these daily activities might be slashing your cancer risk.
VILPA comprises the small daily moments that leave us temporarily winded — playing with kids, carrying heavy bags, or housecleaning with gusto — but that still may be enough to endow meaningful health benefits. A new study published in July in the journal JAMA Oncology from the University of Sydney demonstrates that no more than five minutes of daily VILPA may be enough to cut the risk of some cancers up to 32 percent.
Research shows that middle-aged adults who don't exercise have an increased risk for breast, endometrial, colon, and other cancers, the study says. Until recently, tracking physical activity unrelated to exercise had been difficult, which made it challenging to assess cancer risk in sedentary adults. This study used wearable devices to identify a potential link between physical activity from daily tasks and decreased cancer risk.
The researchers first used available data from a previous study on physical activity and cardiovascular health, published in PLOS Medicine in 2021, which came from the UK Biobank. In that study, participants wore accelerometers for seven days to track their activity levels. The researchers in this study recorded these participants' health status for the following seven years.
The researchers followed over 22,000 people who didn't work out regularly. This meant they didn't take daily walks and didn't incorporate intentional exercise into their days. In addition to tracking activity levels, they also factored in age, smoking status, alcohol consumption, sleep habits, fruit and vegetable consumption, and familial cancer history. In the follow-up period, the researchers clocked 2356 total cancer incidents; 1084 were linked to physical activity.
Compared to those who went VILPA-less, three-and-a-half minutes of VILPA every day was associated with a 17 to 18 percent reduction in total incident cancer risk. A median daily VILPA at four-and-a-half minutes pushed that association to a 31 to 32 percent reduction. The team observed that more than 90 percent of VILPA manifested in one-minute spurts, so a few sessions every day came with benefits. Those who reduced their risk for cancer the most performed small, daily amounts of VILPA.
According to the researchers, intermittent vigorous activity rapidly improves cardio-respiratory fitness, which may help reduce cancer risk. They also suspect that reduced cancer risk comes from physical activity's ability to improve insulin sensitivity and chronic inflammation.
This study makes a case for opting to take a few flights of stairs if you're able or makes a great excuse to play more fetch with your dog.