Ban on Patio Dogs Lifted Because Family Is More Important Than Hygiene
"They, too, are valued members of our community.'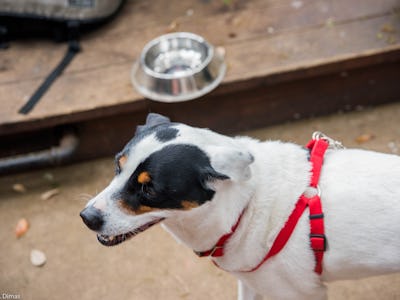 Flickr / josecdimas
Ohio's Senate just passed a bill that finally allows residents to drink beer on a restaurant patio with their dogs. This event, which echoes a recent similar achievement in Michigan, is much more dramatic than it may seem: The bill breaks with decades of Ohio state health code laws discriminating against dogs in restaurants, passing through the Senate with the help of a hard-fought scientific argument: having dogs around actually makes people happier.
To be clear, service dogs have always been allowed to accompany their owners into restaurants. But regular pet dogs have largely been barred from public restaurants because of fears that they might pass on animal-borne illnesses. That's why it's written to the the Ohio health code that "live animals may not be allowed on the premises of a food service operation or retail food establishment." This clause is actually present in a lot of state health codes, like those of Virginia and New Hampshire, although some versions provide local government with some wiggle room.
But it's starting to look like Americans are no longer willing to leave their pups at home for the sake of hygiene. The Ohio bill comes in the wake of one in Michigan that passed the Senate in May by arguing:
"[Some] people view dogs as members of the family, and some enjoy taking their dogs with them to public places, or find it convenient to do so while traveling."
To pass its bill, Ohio used a similar argument. As scientists have shown, arguing that a dog is a part of the family isn't just a figure of speech.
The Love Hormone
Scientists have shown that pet dogs are, in a very real biological sense, part of their human's family. In a Science paper published in 2015, Miho Nagasawa, Ph.D. of Azabu University's Department of Animal Science and Biotechnology showed a spike in the level of oxytocin — the "love hormone" — in humans and dogs after 30 minutes of playtime. Oxytocin, the paper notes, has been shown to play a role in maternal-child boding.
As humans played with pups and hand-raised wolves (a control group) played, the researchers measured how long the people stared into the eyes of the animal they were playing with. "In humans, 'mutual gaze' is the most fundamental manifestation of social attachment between a mother and infant and maternal oxytocin is positively associated with the duration of mother-to-infant gaze," the authors write. The same, they hypothesized, might be the same for dogs and their owners.
Sure enough, post-playtime urine samples from both the dogs and the humans showed a significant spike in urinary oxytocin levels after 30 mins of dog-gazing, but not after the same amount of time wolf-gazing. Interestingly, they were also able to show that this effect is reversible: when they had dogs snort an oxytocin-laced nasal spray, they noticed that gazing increased. Human-dog interaction, they explained, creates an "oxytocin-mediated loop" — a self-sustaining endless cycle of hormone-mediated happiness produced by hanging out with one another.
Ohioans weren't going to let the Health Department interrupt that loop any longer.
Cracking Down on Doggos
In fact, the residents of Ohio had already become accustomed to enjoying an outdoor meal with their pets despite the health code, explains Rep. Laura Lanese (R-Grove City), a co-sponsor of the bill. "People had been bringing their dogs to outdoor patios for years," she tells Inverse. "But no one really realized it was illegal. But then the Columbus Health Department had to shut down a local business because of a complaint."
The crackdown began: One business in particular, Land Grant Brewing Company, was used to hosting "Pups and Pints" nights once per week where dog owners could drink alongside their animals. Land Grant Brewing also used those nights to fundraise for the Columbus Humane Society — one event yielded $3,500 — and show off pets that were up for adoption from local shelters. But even this wasn't enough to melt hearts at the Health Department.
"While we were never officially reprimanded by the Health Department, Land Grant — like all Columbus bars and restaurants — received a letter from the Health Department," says Julie Keys, a representative from Land Grant Brewing tells Inverse. "When the Health Department weighed in on events like Pups n' Pints, we were forced to comply with the law, but also assured our customers that we would support any and all legislation that sought to do away with what we viewed as an unnecessary and unfair restriction."
Though Lanese says at least one local business owner mentioned a 10 to 20 percent drop in business because of the crackdown on dogs, the argument to let dogs remained community-based. The clientele at Land Grant, like Michigan's pet owners, saw their dogs as part of the family. Keys noticed that when the restaurant hosted weddings, football game afterparties and "lazy Sundays", people always brought along their dogs.
"[Until] the Health Department said otherwise, dogs were always invited to participate in those celebrations… because they, too, are valued members of our community," Keys wrote in her testimony before the Senate Health, Human Services, and Medicaid Committee.
The Law Meets the Love Hormone
Keys and Lanese note that there has been widespread support for this bill since it passed the Senate. Specifically, Lanese estimates that 95 percent of people seem pleased, and she would assuage the 5 percent of people who don't like animal company at the dinner table by reminding them that dogs are still only allowed outside restaurants.
This is a significant step for dogs and their humans, but there's a long way to go before pet pups will be able to enjoy all the rights of a true family member. While Ohio's law banning dogs from patios has finally been lifted, it doesn't mean there aren't caveats. For instance, employees of the restaurants are banned from "intentionally" touching dogs. You still can't allow your pet to sit in your lap, and you have to keep your pet on a leash.
But at least it'll make Ohio summers a little bit sunnier. "Not only does the new State law strengthen our business because it respects our autonomy by restoring our decision-making authority, but it also makes our customers and community partners very happy," Keys concludes.