Samsung will announce Galaxy S23 series on February 1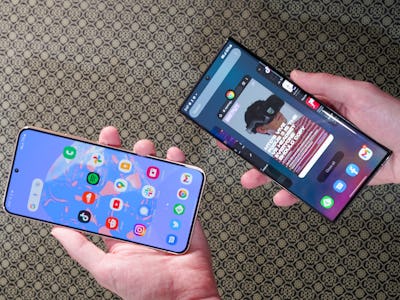 Raymond Wong / Inverse
Samsung's next Unpacked event is February 1. The company is expected to use the event to announce its next flagship Android phone, the Galaxy S23 series.
As with previous years, we're expecting multiple models of the Galaxy S23 — a regular S23, S23+, and S23 Ultra. The phones, if multiple leaks from reputable leakers are to be believed, should be more evolutionary than revolutionary.
For example, the S23 and S23+ should resemble the current S22 and S22+, respectively, sans the "contour cut camera" housing around the triple-lens cameras. And the S23 Ultra is expected to look virtually identical to the S22+ Ultra — Galaxy Note-inspired design and built-in S Pen in tow.
Decoding the invite — We wouldn't advise thinking too deeply about the media invite that Samsung sent Inverse. It's unlikely to provide any clues as to what to expect.
We see green, and three spotlights, which likely correspond to the main color and the three camera cutouts on the back of the phones.
Samsung also shared the following Unpacked teaser video with us:
In-person event — Different from the past several years, Samsung is returning to an in-person event. Unpacked 2023 will be held at the Masonic Auditorium in San Francisco starting at 10 a.m. PT / 1 p.m. ET. A live stream will also be available.
Early specials for Samsung loyalists — Once again, Samsung is offering in its U.S. Reserve several bonuses for anyone who signs up to get the phones early between January 10 to February 1. Customers can get $50 in Samsung credit if they pre-order one device and $100 if they pre-order two.