Zelda: Tears of the Kingdom Is Nintendo's Next Epic — Everything to Know
The long wait is nearly over.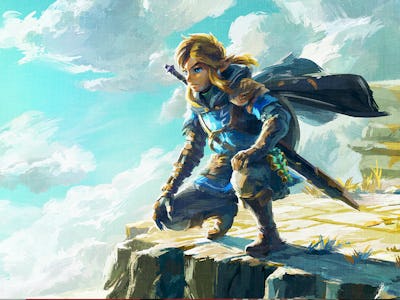 Nintendo
The long-awaited sequel to the Legend of Zelda: Breath of the Wild is finally within reach, and you can start measuring the time until release in a matter of weeks instead of years or months — particularly since the game has gone gold. Nintendo announced the sequel all the way back in 2019 with a spooky, jaw-dropping teaser. In the nearly four years since, information on the game has been doled out in small increments, and the cloud of Breath of the Wild 2 hung over every Nintendo Direct. But during the September 2022 Direct, a ray of light broke through that cloud, and Tears of the Kingdom was unveiled.
Here is everything you need to know.
When Is the Tears of the Kingdom Release Date?
At E3 2021, Nintendo confirmed it aimed to release ToTK in 2022. On March 29, 2022, series producer Eiji Aonuma revealed the sequel would be delayed until Spring 2023. At the September 2022 Nintendo Direct, TotK got an official title as well as an official release date of May 12, 2023.
Is There a Tears of the Kingdom Trailer?
There have been several trailers in the years since the initial teaser reveal. The latest was released on March 28, 2023. In it, Eiji Aonuma played about 10 minutes of the game as a way to showcase some of Link's new abilities.
Take a look:
What Are Link's New Abilities in Tears of the Kingdom?
The March 2023 trailer teased several new abilities:
Recall/Rewind — This ability rewinds an object's movement, effectively reversing time for a localized object.
Fuse — Link can essentially craft items and weapons by combining a tree branch with a boulder to construct a makeshift hammer or enhance arrows with various properties. The possibilities seem virtually endless.
Ultrahand — Another new crafting mechanic, Ultrahand lets link combine three large logs to create a makeshift raft in the March 2023 trailer, but Aonuma confirmed that this ability allows our mute hero to create all sorts of vehicles to travel land, sea, and air.
Ascend — Perhaps the most novel new ability is Ascend, which allows Link to go through most ceilings. Even if he's in a mountain cave, he can pass through the ceiling and pop up on a cliff high above.
It's likely that Link will have even more new abilities in the full game, but for now, these create a lot of tantalizing new possibilities.
What Is the Tears of the Kingdom Story?
ToTK will be a direct sequel that will follow up after the events of Breath of the Wild. The announcement trailer hints at a darker tone during certain parts of the adventure as Link and Zelda team up. Players will be staying in Hyrule, but things have changed considerably. Therefore, we're probably looking at another time skip.
The trailer that debuted during the February 2023 Direct shows a much darker version of Hyrule, with a blood-red moon present throughout. As part of the trailer, Zelda says, "I'm not sure you'll be able to stop him." It's fair to assume she's talking about Ganon, but it may be a bait-and-switch.
Fans have guessed that Link and Zelda may have discovered the dried-up corpse of Ganondorf deep below Hyrule Castle. Assuming that's the case, it seems something will go wrong, freeing the villain from whatever spell had been used to contain him and plunging Hyrule into darkness yet again.
Some fans believe the game will have a plot that revolves around time travel. The voice actor for Daruk revealed he would be returning for the sequel in more than one role. He will also be voicing Daruk's ancestor whom he calls "a bit more serious."
"Sky Islands" now float in the sky with manmade structures and yellow-leafed trees that only grow up there. In the March 2023 trailer, Link also fights a new enemy type called a "Construct" that appears to be similar to a small Guardian robot but it's cobbled together with light blue-green energy.
Is Zelda Playable in Tears of the Kingdom?
A batch of leaks on Weibo (the Chinese equivalent of Twitter) suggests that Zelda could finally be playable in ToTK. While this has never happened in a mainline Zelda game, the leaker (a 3D artist claiming to be a Nintendo contractor) revealed information suggesting TotK could change that.
Specifically, the leaker mentions working on sequences related to the Sheikah Slate. By the end of Breath of the Wild, this is in the possession of Zelda. Link has been depicted as having some sort of mutated arm that replaces the Sheikah Slate in the available trailers for TotK. Its inclusion raises questions about who could be using it, or why Link would be in possession of it in the first place.
What New features Will Tears of the Kingdom Have?
An E3 2021 trailer showed Link gliding and falling through the air, revealing that players will be able to explore islands in the sky. It also highlights some of the new powers Link will have at his disposal, including one that allows him to phase through objects. The sky landscape has made some theorize that there may be connections between ToTK and Skyward Sword, which recently received remaster for the Switch.
The Weibo leak also states that Link will "look different" in a possible New Game Plus mode. As this is translated this could refer to a change in outfit, or Link's arm returning to normal. However, this could be another reference to playable Zelda, New Game Plus looks different because you are playing as a different character. This could function like Nier Automata which gives the player control over new characters in subsequent playthroughs.
Legend of Zelda: Tears of the Kingdom is coming to Nintendo Switch on May 12, 2023
This article was originally published on