10 Essential Food and Elixir Recipes for Tears of the Kingdom
Time for Link to get a stew goin'.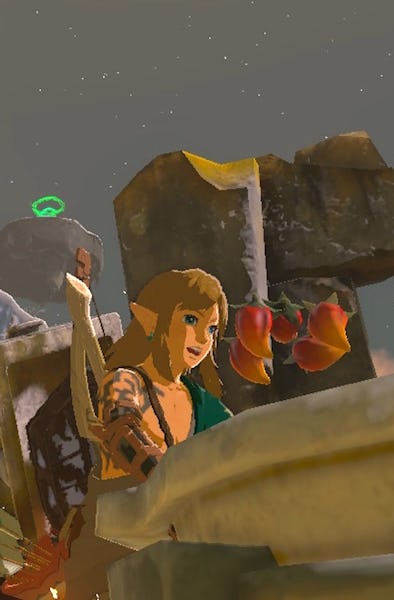 Nintendo
In The Legend of Zelda: Tears of the Kingdom, our mute hero Link takes another long nap to recover from a near-death experience before setting out to explore a changed Hyrule. Along the way, he must figure out how to wield strange powers granted by a magical new arm, reforge the Master Sword, and get a nice stew goin' by roasting ingredients by the fire.
Tears of the Kingdom has more than 200 recipes with various combined effects. Even in the early game, start collecting ingredients so you can cook up the following food and elixir recipes. But keep in mind that much like real life, cooking is more art than science, with a lot of flexibility — as long as you know what you're doing.
Tears of the Kingdom Best Food Recipes
Depending on what effect you're looking to achieve by cooking, simply identify the key ingredient and then riff to your heart's content. In most cases, you can add meat, fruit, or fish to that core ingredient — and perhaps some spice or herb. But if you try to do too much
In most cases, tossing some Rock Salt into recipes will enhance any time-based buffs by 30 seconds, so if you're short on core ingredients, feel free to go all Salt Bae on your recipe.
Sauteed Peppers
Even in Tears of the Kingdom's opening section, you'll find bitterly cold areas that'll gradually chip away at Link's hearts unless you increase his resistance to cold. Some armor pieces — like the kind sold by the avian Rito — will help, but the quickest solution is to cook up some Spicy Peppers. Alone, they become Sauteed Peppers when cooked. The more peppers you use, the longer you'll have cold resistance.
You can mix it with virtually any combo of mushroom, fish, and meat to restore hearts as well. My personal favorite recipe is Pepper Seafood, which is one fish, one Skyshroom, and three Spicy Peppers. You can also make Spicy Simmered Fruit by cooking up fruit with a Spicy Pepper and nut.
Energizing Meat and Mushroom Skewer
Replenish health and stamina
Early in your adventure, a friendly Construct will teach you about hunting the local wildlife with a bow and arrow. It's worth slaying each and every beast you encounter so you can cook up some hearty meals for yourself. Particularly early on, Link is likely to run out of stamina very quickly. That's where the Energizing Meat and Mushroom Skewer comes in. All you need to do is combine any number of Stamella Shrooms with raw meat, and you'll be able to replenish your health and stamina to help you for any long climbs or glides.
Hasty Mushroom Skewer
Rushrooms are the go-to ingredient for getting Link to move faster, and that applies to climbing as well as running. Stack up to five Rushrooms to increase the potency, combine it with meat or fish to restore some health as well, or even mix in some Rock Salt to enhance the effects. You might also include any kind of fruit (like apples) for a Hasty Fruit and Mushroom Mix.
Bright Fish Skewer
Make Link illuminate the nearby area
Sure, you can shoot Brightbloom Arrows all over the place to illuminate the many dark caves in Tears of the Kingdom, but one pescetarian-friendly dish transforms Link into a humanoid nightlight. Simply cook one or more Glowing Cave Fish, and Link will get lit enough to illuminate even the darkest of caves.
Sunny Veggie Rice Balls
Recover hearts lost to Gloom
Link and Zelda spend the game's opening scene exploring the cave system beneath Hyrule Castle, where a mysterious Gloom is spreading. This calamitous form of corruption persists throughout "The Depths" Link explores. Gloom can and will chip away at Link's health similar to other environmental effects, but you can curb it with veggie rice balls infused with the power of the sun. Hylian Rice will replenish some hearts, but more importantly, Sundelions help recover any hearts lost from Gloom effects.
Dark Rice Ball
If you want to take a more proactive approach to handling Gloom, combine a Dark Clump with any kind of rice with a bit of Rock Salt, and you'll have a Dark Rice Ball that'll grant Gloom resistance.
Tears of the Kingdom Best Elixir Recipes
Spicy Elixir
If you want to go the elixir route to protect yourself from the cold, use a Summerwing Butterfly or Warm Darner with monster parts. Like with most recipes, using more of those core ingredients will enhance the effect.
Energizing Elixir
Energetic Rhino Beetles and/or Restless Crickets are key to increased stamina regeneration for Link, so combine them with monster parts to achieve just that.
Chilly Elixir
Mix up a Winterwing Butterfly or Cold Darner with some monster parts to brew a Chilly Elixir, which will grant Link heat resistance to help him navigate any hot areas.
Sticky Elixir
Breath of the Wild veterans no doubt remember that in the land of Hyrule, rain always occurs at the most inopportune moments. Whether it's an icy cliff or a slippery slope, climbing hazards can quickly send Link crashing to his doom — especially nowadays when so many environments are leagues in the sky. Mix up one or more Sticky Frogs or Sticky Lizards with different monster parts, and you'll have a Sticky Elixir that allows you to climb slippery walls.
"It's dangerous to go alone!" Check out more of Inverse's Tears of the Kingdom coverage: