Everything you need to know about WWE 2K22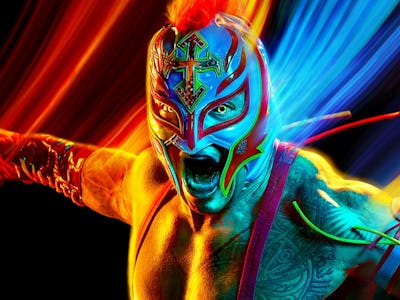 2K
Following the release of the disastrous WWE 2K20, the wrestling series has been in an odd spot. Developer 2K took a year off to refine the next entry, and with the departure of longtime developer Yuke's, a lot is riding on the success of WWE 2K22. Here's everything we know about WWE 2K22, from its release, trailer, roster, and what to expect from the game.
When will WWE 2K22 be released?
WWE 2K22 will launch on March 11, 2022. This is a major departure for the series since the 2K games have historically always launched in October. It's unclear if the WWE 2K series will now shift to a March release window going forward or if it plans to move back to October with future installments.
One important tidbit here is that you can play early if you purchase the Deluxe Edition, which launches on March 8, 2022. This comes with the season pass, a '96 Starrcade Rey Mysterio pack, Undertaker Immortal pack, and a booster for the MyRise mode.
Who is in the WWE 2K22 roster?
While 2K is still holding the game's full roster close to the chest, we do have a list of confirmed superstars that will make an appearance in WWE 2K22. The full list is over 140 strong, but you can expect to see the likes of AJ Styles, Becky Lynch, Bobby Lashley, Brock Lesnar, Edge, John Cena, Randy Orton, Seth Rollins, Triple H, and The Undertaker to name a few.
More superstars will likely be announced leading up to the game's launch in March 2022. For now, we know a handful of legends will make an appearance such as The Rock and Kane, along with a boatload of other major names like Roman Reigns.
And of course, much of the marketing is centered around high-flier Rey Mysterio, who will also be included as the cover star.
Given how WWE has made a habit of getting superstars recently, it's unclear how this will impact the final roster. Superstars like Nia Jax, William Regal, and Samoa Joe were likely planned to be included in the game, but will probably be pulled.
Is there a WWE 2K22 trailer?
There is a trailer! It was revealed at Summerslam 2021, and while it doesn't depict any gameplay, it did confirm a handful of additional superstars that will be playable in WWE 2K22. You can watch the 30-second trailer above.
In addition, the official announcement trailer was released on January 20, showcasing many of the superstars and features. Check it out above!
What are the WWE 2K22 platforms?
WWE 2K22 will launch for PS4, PS5, Xbox One, Xbox Series X|S, and PC. Despite previous iterations launching for Nintendo Switch, it doesn't appear like 2K22 will make its way to the handheld hybrid.
Who is the WWE 2K22 developer?
Visual Concepts has taken the reigns after the departure of longtime developer Yuke's. Previously, Visual Concepts worked as a support team on the series, so the studio is familiar with the inner workings of the WWE games. You might recall this team as the studio in charge of developing the hit NBA 2K series year after year, which is also under the 2K umbrella.
Now that the developer has had over a year to work on the project, things should come together nicely — at least more so than 2K20.
What are the WWE 2K22 features?
WWE 2K22 is exciting, not only because it will mark the first release since 2019, but also because of its features. Publisher 2K confirmed this game will have new controls, improved visuals, and is built on a redesigned engine that will hopefully make for a more immersive sim.
One of the highlights of 2K22 is the new Showcase Mode, which takes players through famous Rey Mysterio matches. You'll face off against Eddie Guerrero, Shawn Michaels, and even The Undertaker. Other modes include MyGM, MyRISE, and MyFACTIONS.
WWE 2K20 was terrible due to its lack of polish and glitches that practically made the game unplayable. Weird hitboxes, terrible visual bugs, and inaccurate commentary plagued the last entry, so there isn't anywhere for 2K22 to go but up.
Given that Visual Concepts has had ample time and the opportunity to make plenty of improvements, expectations for WWE 2K22 are high.
What are the WWE 2K22 pre-order details?
WWE 2K22 is available to pre-order right now across various retailers and digital storefronts. Pre-ordering any version gives players access to the Undertaker Immortal Pack, which includes three famous attire sets for the beloved superstar.
WWE 2K22 launches for PS4, PS5, Xbox One, Xbox Series X|S, and PC on March 8, 2022.
This article was originally published on